Choosing hosting for your WordPress blog or website, is a minefield if you don't know what you're looking for. When I started this blog, Simply Hatch, I struck lucky with my hosting company.
I've had websites in the past such as a big ecommerce site with a 7 figure turnover. Unreliable shared host, sleepless nights and ruined holidays taught me that cheap isn't an option when it comes to hosting. You get what you pay for...
If your blog or website goes down you don't make any money. If it's too slow, customers don't stick around.
Speed, security, and reliability are the three amigos of website hosting.
Ignore them at your peril!
Choose the Best Website Hosting For Your Needs
The needs of a large established blog or website are going to be totally different to someone blogging for a hobby. I'm assuming you're here, reading this blog post because you want to make money.
Free WordPress Hosting
Making money rules out free web hosting. It's unreliable, usually involves running someone else's banner ads on your site and it's usually impossible to monetise. Just don't go there.
Shared WordPress Hosting
Most hosting you'll see advertised is shared hosting. It's the most affordable and can be good for new companies starting out. Shared hosting means you share a large server with a lot of other sites. It means hosting providers can offer some really low rates for their hosting services.
But there is a catch. Many shared hosting providers offer unlimited space and unlimited bandwidth. This just isn't possible. They are relying on most of their clients having small blogs and using small resources. Often hosting companies will oversell server space. This will affect your website loading speed.
Plus, if your blog post goes viral you'll suddenly be asked to move to a dedicated server. Often not very politely.
Shared hosting is still a good option for your startup blog, especially if it's a side hustle and you're testing the waters before committing full time.
I only like to recommend products I use. I use SiteGround hosting for my lifestyle blog LoveLifeBeFit. SiteGround is rated as one of the best shared hosting sites available and I can't fault their service. Their support is fast and brilliant. No question is too trivial.
UPDATE: I've had three viral pins since launching my lifestyle blog less than two months ago. SiteGround has coped wonderfully.
WordPress VPS or Cloud Hosting
These types of hosting are similar. Virtual Private Server (VPS) is a way of partitioning a physical server into smaller virtual sections. Each virtual section runs as if it's a dedicated server.
The upside is you can have a lot of control over how your VPS server is set up. On the downside, they are less reliable. If a physical server fails, every VPS on that server will fail.
You can also have one site hogging resources on the physical server and affecting performance.
I've experienced both situations.
A VPS server that failed and left my tech support scrambling to install backups on a new server.
Having a gut feeling that performance wasn't up to scratch on a VPS server. Eventually found out that another site on the same server had unexpectedly high traffic. In theory this shouldn't happen. You should have dedicated RAM all to yourself. But it did, so be aware!
The alternative in this price bracket is Cloud hosting where resources are spread over a network of physical servers. It's more reliable and flexible but customisation options can be limited.
For most people. it's hard to see the benefits of VPS compared with Cloud hosting. Cloud hosting is rapidly becoming the top choice for growing a blog or website where you've outgrown your shared hosting.
WordPress Dedicated Server Hosting.
This is where you get your own dedicated physical server from the hosting provider. It's all yours and the amount you pay will depend on the power of the server. For dedicated servers, we're in the realms of extremely high traffic blogs.
Managed WordPress Hosting
If you're beginning to think it's all getting very complicated, don't despair. Perhaps you just want someone to take care of the technical stuff so you can write your blog.
I totally know where you're coming from.
That's why I'm so pleased I chose WP Engine for this Simply Hatch blog.
WP Engine provides Managed WordPress Cloud Hosting. It means you can start off small, (I'm on the StartUp package), and as you grow, using more resources, you're just moved onto the next package. Nice easy steps and WP Engine take care of all the technical stuff. They optimise your site for performance, make sure your site is safe AND take regular backups. I mean who remembers to take backups!!! So pleased someone's taking care of mine…
Read on for my lowdown of recommended hosting providers.
WP Engine Managed WordPress Cloud Hosting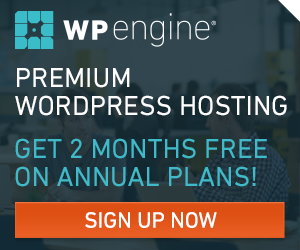 Recommended for growing business websites and blogs. WP Engine is for businesses that already have an income stream or are serious about building their business quickly.
Here are the benefits…
---
Speed
The problem with cheap hosting is that your blog will be hosted on a shared server and these servers become overloaded. Your site speed becomes slower and slower…
Not the case with WP Engine. Their platform is built for speed plus they only host WordPress sites making them practically the authority on WordPress. They have their own custom built user portal, dedicated to WordPress, where you can check your page performance and get tips and advice for improvements.
WP Engine provides a Content Delivery Network (CDN) for FREE. A CDN is a collection of servers located around the World. It caches static content on your website and sends it to the network of servers. When someone visits your site, they're served content from the nearest server.
For example, if your website is hosted in London, a customer in Washington will view your website from a server in the US rather than waiting for a version from London to load.
If this sounds complicated don't worry. All you need to know is that CDN makes your blog super fast.
Security
Unless you've been living on a different planet recently, you're probably aware that cybersecurity has become a huge issue. With WP Engine you can relax. The platform has some advanced security features that other hosts don't offer. I could get very technical here but I won't.
Just accept that these guys know what they're doing. I had a problem with a third party trying to hack my user login recently. The WP Engine support team helped me shut it down.
WP Engine has a list of Disallowed Plugins which will be automatically disabled by their system scanner. Some people see this as a downside to WP Engine's managed hosting but for me, it's a big plus. The plugins on the disallowed list affect performance or security. Why wouldn't you want this?
They also include an SSL certificate for FREE. An SSL (Secure Sockets Layer) certificate is a key that encrypts all transmitted data. You need this to reassure your customers and get the secure padlock symbol on browsers when customers visit your site. WP Engine makes installing an SSL certificate super easy.
You can be set up with a secure https URL address from the word go. (The full web address for Simply Hatch is https://simplyhatch.com. This means my whole site is secure and visitors don't get any "site not secure" warnings in their browsers).
Reliable
There is nothing worse than site downtime caused by your hosting platform. Believe me, I know from bitter experience. Since launching this blog my up-time with WP Engine has been 100%.
You're running a business – you need your business to be open online 24/7.
Support
WP Engine has fantastic support. (They have 6 Stevie Awards for Customer Service). It doesn't matter what time of the day or night or how technical your problem, just jump on LiveChat and get an immediate answer. Yes, I did say "immediate".
With WP Engine you don't have to make sure you've got plenty of time to spare before contacting support. Their LiveChat hooks you up with someone who knows what they're talking about straight away.
You won't be palmed off with someone following a set list of answers. WP Engine support staff are all technical experts. I have been blown away by how good their support is.
WP Engine is built around giving you the best support system. They take care of backing up your site daily and when you install updates you get a little reminder to back up your system first. This back up on demand facility is usually an expensive extra cost for most hosting platforms.
You also get a staging site so you can test out a redesign of your blog before launching.
As you build your blog, you'll start using plugins to improve your site. These plugins need to be compatible with your theme and your version of WordPress. The good plugins get updated quickly to keep your site running smoothly.
But every now and then, a plugin update will break your site.
With WP Engine – not a problem. Just get in touch with their support and POW your site can be restored to your latest backup version.
When you sign up for WP Engine you get the entire set of StudioPress Themes plus the Genesis framework they run on for FREE. That's about $2000 in value and a huge saving when you're starting out.
Just about every online business will invest in a theme and if you're like me you'll test out different themes until you find one that really suits your site. This gets expensive!
With WP Engine you can test out all 35 of the StudioPress Themes at no extra cost. (I'm not suggesting you do this but it's good to know you can).
When I signed up to WP Engine it was before they teamed up with StudioPress. I paid extra for their AuthorityPro theme, then changed my mind and purchased their Mai Lifestyle Pro theme. It cost me $172.37 in total on these themes with the Genesis framework.
Including the StudioPress Themes with WP Engine is a deal maker for a new business blogger. Their StartUp plan is $35/month and you get 2 months FREE with annual prepay.
If you're serious about your business that's about the cost of 10 cappuccinos at your favourite coffee house. Think of it as renting a shop on the Worldwide High Street for just $35/month.
Unlike other hosting platforms, their StartUp plan gives you access to all benefits such as CDN, terrific server architecture, SSL certificates and on-demand backups at no extra cost. Add all these extras up and you're getting far more bang for your buck.
You won't regret it.
If you're starting out and looking for affordable hosting SiteGround is your answer. SiteGround frequently comes out top for support in the shared hosting category. They're an official 'WordPress Recommended' hosting provider.
I managed to set up my lifestyle blog with SiteGround very quickly. If you want, you can hop on their support and get the SiteGround staff to set your site up for you.
(Can you see a pattern here, I'm recommending the two top-rated hosting providers for support in the industry. I want your life to be easy…)
SiteGround is extremely popular amongst its users with good speed and security systems to make your site as fast and secure as possible. It's reliable hosting. Since testing out SiteGround my hosting has been up 100%. This isn't unusual. They have an average 99.99% uptime. Love it and so should you…
Their Startup package, at about the cost of just one cappuccino a month, includes a free SSL certificate, free Email, and free daily backups. (You do have to pay for backup restores and backup on demand but you get these FREE with the GrowBig package).
I have the GrowBig package for slightly more money, but I can create and test an unlimited number of websites within my allowed number of visitors and web space. Plus my lifestyle blog is growing fast and after just two months my traffic is too high for the Startup package.
Conclusion, Pros and Cons of SiteGround and WP Engine
SiteGround is fantastic for beginners. I find that WP Engine's help desk expects you to have some basic knowledge. They're just not as used to dealing with complete beginners. That doesn't mean they won't be super polite and supportive when you don't understand something, it's just that complete beginners don't match their typical customer.
In comparison, SiteGround are the complete opposite. They expect you to have no idea what you're doing – just what you want when you're a beginner blogger.
SiteGround does provide some FREE themes but they're not that good. WP Engine has the excellent StudioPress themes for FREE. If you want your blog to grow FAST, you will need a PRO theme. So factor in your paid theme cost when you're weighing up which hosting to go for.
You will outgrow SiteGround's Startup package quickly so you need to consider the increased cost of upgrading to GrowBig. For most people it's best to signup for GrowBig from the get-go. The GrowBig package is amazing value.
If you already have a domain name you can use it with your SiteGround hosting (or WP Engine hosting). Alternatively you can purchase your domain name from SiteGround.
SiteGround has recently launched a one click staging tool which lets you test changes to your blog in a separate environment. This is a featured I've enjoyed on WP Engine for a while. It's almost essential when you're changing themes over on a busy blog. It's a big plus having it for the GrowBig package on SiteGround.
I love WP Engine. It's my Mercedes. You get the advantage of their unique user portal and the fact they're top of the knowledge tree when it comes to WordPress. (WP Engine is 100% dedicated to WordPress and it shows). It's my recommended provider for businesses.
BUT if it's your first blog or you're a tiny work from home business, I suggest you choose SiteGround… it's rapidly becoming everyone's favourite hosting provider.
Ready to start your blog?
Hop over to my Set Up Guides
Start Your Business Blog In 9 Easy Steps
How To Start A Blog (The Ultimate Step-By-Step Guide)
How To Make Money With A WordPress Blog (A FREE Step By Step Guide For Success)
---
---