Do you want to learn how to start a blog?
This in-depth guide shows you the exact steps I used to start and grow my lifestyle blog, Love Life Be Fit from brand new to 100K+ visitors/month in just over a year.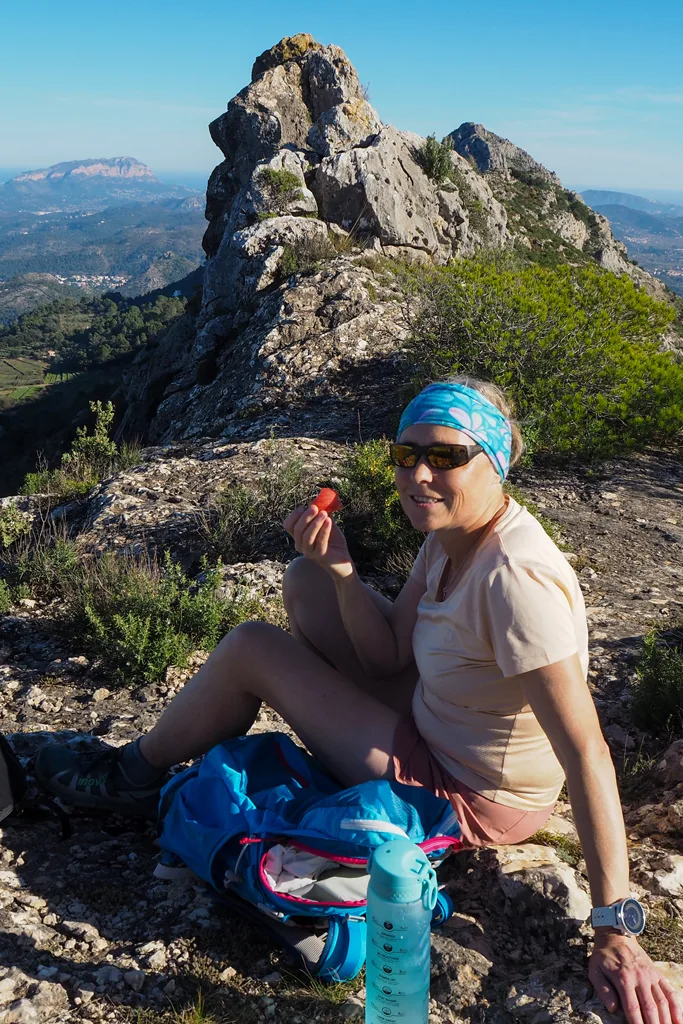 Hi, I'm Alison.
In 2017 I closed the door on my 12-year-old business for the last time. I was devastated, I had no idea what I was going to do next. Under pressure to support my family, I trained to be a teacher – I HATED IT! And then I discovered blogging…
For the first year, I was blogging about blogging – never try this! It's really competitive and you probably won't make any money.
But then, just over three years ago, I started the lifestyle blog Love Life Be Fit. And everything changed…
In 2018, when I was learning how to create a blog, I found it frustrating to search for information. I pieced together my knowledge to start and grow a blog from different websites, blogging forums, and even expensive courses. I want to make it easier for you. This FREE start a blog guide is a step-by-step tutorial to help beginners start their blogs quickly and easily. It's the best way to start a blog in 2023.
If you're still making your mind up about starting a blog, these posts will help:
The vast majority of resources on Simply Hatch are free and I fully appreciate the support of my readers.
Disclosure: If you purchase products through links on my site (eg Bluehost hosting) I may earn a commission. This is at no extra cost to you but it helps me create more free content.
✳️ This guide takes 25 minutes to read. That's a lot to take in but it's packed full of information every blogger should know to find the best way to start a blog in 2023.
If you want the easiest way to start a blog, with 1-click WordPress install jump to Step #5: Starting a blog on WordPress
P.S. If you have any questions about this guide or get stuck on any of the steps, I'm more than happy to help. Get in touch with me and ask for free advice.
How to Start a Blog in 7 Easy Steps
✅ A quick step-by-step guide – blogging for beginners
These are the five main points you need to know to start your blog quickly. It's an easy primer for beginner bloggers to start blogging in just 20 minutes or less.
Picking a niche
Your blog's niche is the slice of the internet you'll be targeting. It's your topic. Some blogs, (such as lifestyle blogs), cover more than one topic but it's best to pick just one and never more than three. Choose a popular topic and make sure it's something you're passionate about.
Your blog name
Keep it short and simple. Try combining adjectives with your first or last name. Alternatively, come up with a descriptive phrase relevant to the topic of your blog.
Select the best blogging platform
There are a lot of choices and you can even start your blog for free. If you're serious about blogging and want to be successful, I suggest you start a self-hosted WordPress blog. It's the most popular platform for bloggers and I've used it for all my blogs.
Choose a domain name
For most blogs, your domain name and blog name will be very similar. A domain name is your unique web address on the internet. eg my blog name is Simply Hatch and my domain name is simplyhatch.com.
The best hosting for beginner bloggers
Your hosting is the home of your blog. It's the storage space for your website files. When you start your first blog it's important to choose a hosting provider that's best for beginner bloggers.
You don't want to start your blog on a platform that's aimed at experienced bloggers with a lot of technical knowledge. You want your hosting to be reliable, speedy, and affordable, and without restrictive traffic limits that prevent you from growing your blog.
Good hosting for beginner bloggers makes the start-up process easy. Allows you to quickly install your theme, design your blog and start writing your first posts. Start your blog with the free resources and guides on this site written specifically for beginner bloggers.
Step #1: Find your niche
It's the question I'm always asked – "What's the best topic for my blog". I'm going to make this easy for you… there isn't a wrong answer!
What do I mean by that?
I've seen people start successful blogs on just about anything. But you do need to stick to a few rules:
Your topic has to have an audience. People have to be interested in the topic you're writing about.
The audience has to be big enough. It's a good sign if other people are blogging about your chosen topic.
Your blog has to help people in some way – entertain, inform, and provide answers, or solutions. The easiest blogs to grow relate to basic human needs; relationships, security, and self-esteem.
It helps if your topic is something you love talking about. My lifestyle blog is mainly about health and fitness. I've been a runner since I was 15 and I could talk about it all day.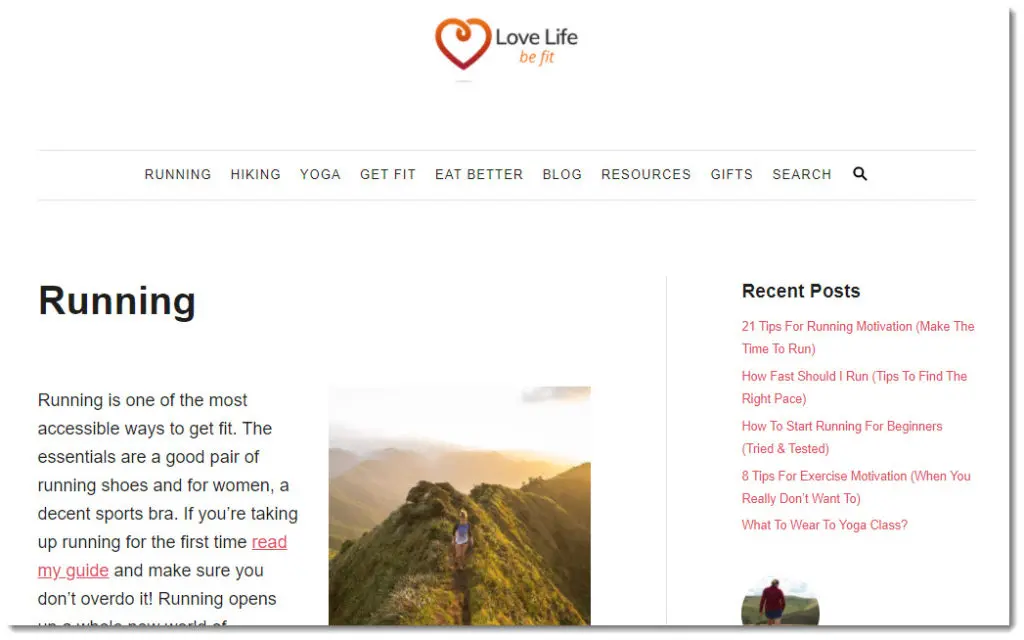 If it's a topic you know really well, you'll find it much easier to write helpful blog posts. Posts that provide value to your readers – that's the key to a successful blog.
✳️ Since the launch of my lifestyle blog in the summer of 2019, the blog has grown to 100K+ monthly sessions. Write about a topic you love and this could be you!
Validate your idea
It's best to validate your niche before you start. Check if it's a big enough niche, explore who will be your audience, and think about how to will monetize your niche.
Find out more in this post:
Step #2: Choose a blogging platform
You need two things to build your blog:
Blogging Platform + Hosting
A blogging platform is where you edit your content and organize your blog posts. It uses Content Management System (CMS) software. The most popular CMS software by far is WordPress.
Hosting is the home of your website. You rent space for your website. It's a bit like renting a store on a busy high street. Except your store will be on the World Wide Web.
✅ I recommend using the self-hosted WordPress blog setup I share in this guide.
Let's look at the different options. The choice depends on why you want to start a blog.
Self-hosted blogging platform
The overwhelming winner for a self-hosted blog is WordPress. WordPress accounts for 59.7% of software-built websites. That's huge – and a tribute to the support of its active and loyal community. WordPress.org is entirely run by volunteers across the World.
It's a platform that was originally designed just for bloggers but these days WordPress has evolved into so much more. You can use WordPress for membership sites, online stores, forums, and delivering courses…it's a blogging medium with no limitations, and hosting costs just a few dollars a month.
It's FREE open-source software. This means the software is openly shared with everyone and gives you complete control over your blog. You set up a WordPress blog using your own domain and hosting.
There are thousands of free themes and plugins. Plugins are software add-ons. Whatever you want to do on your blog, there will be a plugin to help you do it and most of these plugins are free.
Google loves WordPress. It's a Search Engine friendly platform – just what you need to rank highly on Google (and drive lots of lovely traffic to your blog).
It's easy to install and use. You can be up and blogging in no time.
WordPress is the best choice for making money from blogging and it's the setup I use on all my blogs.
Hosted blogging platform
Squarespace is an example of a hosted blogging platform. They provide an all-in-one blogging software and hosting solution. It's a one-stop shop for everything you need to start a blog.
That can be great when you're starting out but it comes with limitations. One of these limitations is advert placement. My lifestyle blog makes money with the ad network Mediavine and most of this income comes from in-content ads placed within my blog posts. This is difficult with a Squarespace blog.
You can build a beautiful blog on Squarespace but you won't be in control when it comes to the function of your blog. It's also more expensive than a self-hosted WordPress option, starting at $12/month.
Another option is Wix. It's easy to set up and even has a basic free version, (although your domain name will contain Wix in it, so it's best to use their paid plans). Disappointingly Wix uses a plain text editor for blog posts making editing very limited. Just like Squarespace and other hosted blog platforms, there are issues with running adverts and other limitations for making money.
✳️The BIGGEST issue with hosted blogging platforms is you're tied into ONE hosting service. Fall out and you're stuck. With a self-hosted WordPress blog, you can up and leave to new faster hosting anytime you want.
But How Do I Set Up A Blog For Free?
Now you can start a blog with free hosting but "free" comes at a big cost.
You don't own your domain. It's like building a business that belongs to somebody else.
You can only set up adverts after 6 months on Blogger and not at all on other free sites.
There will be big restrictions around what you can and can't do with your blog.
Yes, it's possible to start a blog for free but I haven't come across a single blogger who made any serious money going down the "free" route. Eventually, all serious bloggers opt for a self-hosted WordPress blog.
How Much Does It Cost To Start A Blog?
One reason blogging is my favorite home business is the cost and ease of startup. I can't think of any other tiny business you can start for about $100 and be up and running in 15 minutes!
Of course, it will take you longer to write posts, attract followers and add your money-making machine. Yeah, no one said this was going to be really easy! This isn't a "get-rich-quick" scheme.
But the only essential purchase when you start your brand new blog is hosting – everything else is optional.
Blogging Costs For The First Few Months
These are the essential ingredients you need to start your blog and start building followers:
✅ Blog hosting – starting at just $2.95 per month. A 36-month package costs $106 with my 63% discount. That's all you need to pay for 3 years of blogging!
✅ FREE – your blog theme. You can opt for a paid theme but I don't recommend it for the first few months.
✅ FREE – email list. ConvertKit is my favorite email service for bloggers and creators. I use it every day and it's essential for affiliate marketing and selling your own products. ConvertKit has a FREE version for your first 1000 subscribers.
To create your WordPress.org blog you need two things: a domain name and hosting. If you're a new blogger, I recommend Bluehost. They're the No. 1 hosting company recommended by WordPress and they make setting up your blog really easy.
❤️ I've managed to negotiate a special offer for Simply Hatch readers including:
Discount price of just $2.95 per month.
A free domain name.
30-day money-back guarantee.
1-click blog set up, no technical knowledge required.
Site security with HTTPS and a free SSL certificate
Step #3 Pick a domain name
Your domain name is the address of your site. It's how people find your blog, your unique site on the internet. Mine's simplyhatch.com. To keep your domain you need to renew it every year. Expect to pay between $15 to $20 for a .com domain.
People will find your blog by typing the exact address into the browser address bar or using a search engine, so it helps to have a short, unique, easy-to-remember name.
✳️ Quick domain search tool Get Your Own Address On The Internet
It's best to use .com if you're in the US or targeting worldwide customers but I know of some really successful bloggers who started with a .co domain. Sometimes it's a better option for getting a memorable domain name.
Find out more about choosing your domain name in this post:
Step #4 Sign up for hosting
The best thing about self-hosting is you have lots of different options. But the choice can be overwhelming. Ask for recommendations in a blogging forum and everyone's got an opinion.
The problem is opinions are based on what stage people are at with their blogs. Beginner bloggers have completely different needs from intermediate or established bloggers with 1000+ posts!
When you start a blog, ease of startup should be your number one priority. It would be a huge pity to fail at blogging before you've even launched your blog.
That's my main reason for recommending Bluehost to beginner bloggers. Their dashboard is incredibly helpful if you're completely new to blogging. They deal with all the techy stuff so you can concentrate on creating content.
Bluehost is the No. 1 hosting company recommended by WordPress. It's reliable and secure with a 24/7 support service. Best of all it has unmetered bandwidth. This means you can grow your blog without being forced to upgrade your plan as soon as you start to get traffic.
(I started my lifestyle blog on SiteGround and had to upgrade TWICE in the first year because I hit their traffic limits. Hugely expensive and this was before my blog started making money).
-> Click here to head over to Bluehost and hit the green "Get started now" button.
Step #5 Starting a blog on WordPress
This step shows you how to signup for web hosting and install the WordPress software. I've included screenshots for you to follow taken from some of my own blogs on Bluehost.
1. Visit my Bluehost offer page on Bluehost.com
Follow the link and you'll find this page with an unbeatable discount – over 73% off if you sign up for 12 months! Click the "Get Started Now" button.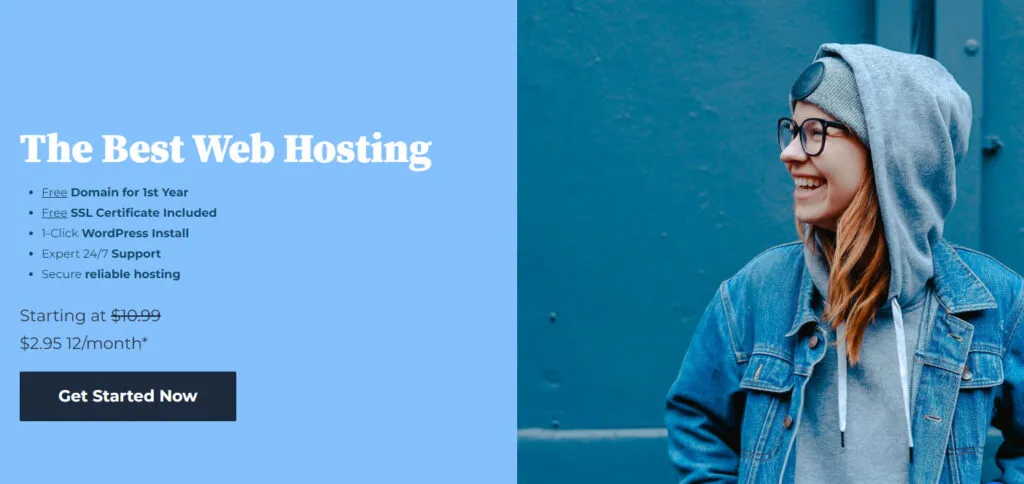 2. Select your hosting plan
There are three choices for your hosting plan. If it's your first blog, go with the Basic plan. You can always upgrade at a later date when your blog has started to grow. The Choice Plus plan is good value if you have the budget. It includes some extras such as domain privacy and protection.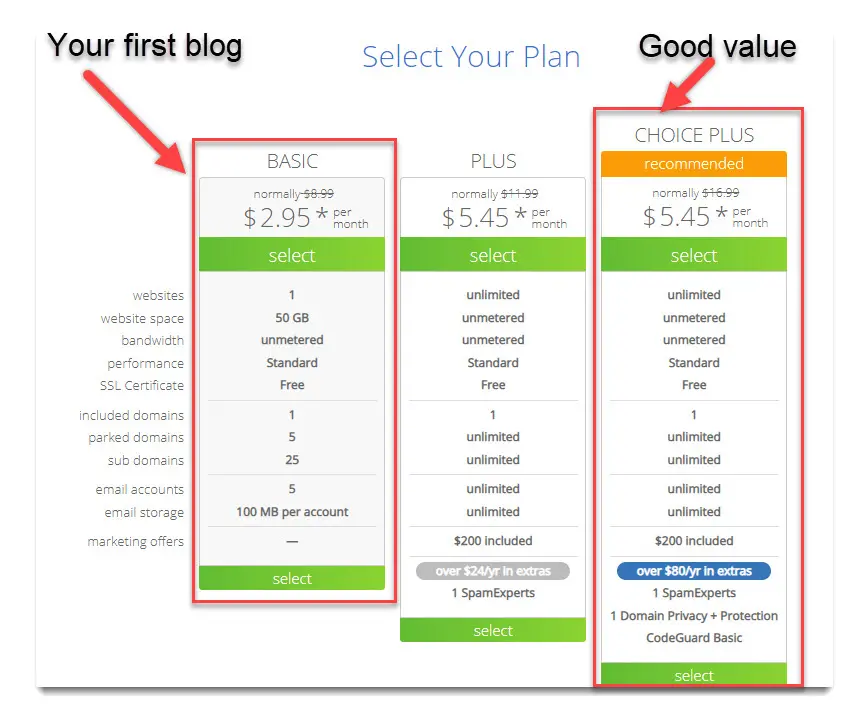 3. Set up your domain name
Your domain name is the address of your site. It's how people find your blog, your unique site on the internet. Take your time to come up with a memorable name.
Type the name you want in the new domain box and Bluehost will tell you if it's available. If not Bluehost will suggest some similar alternatives.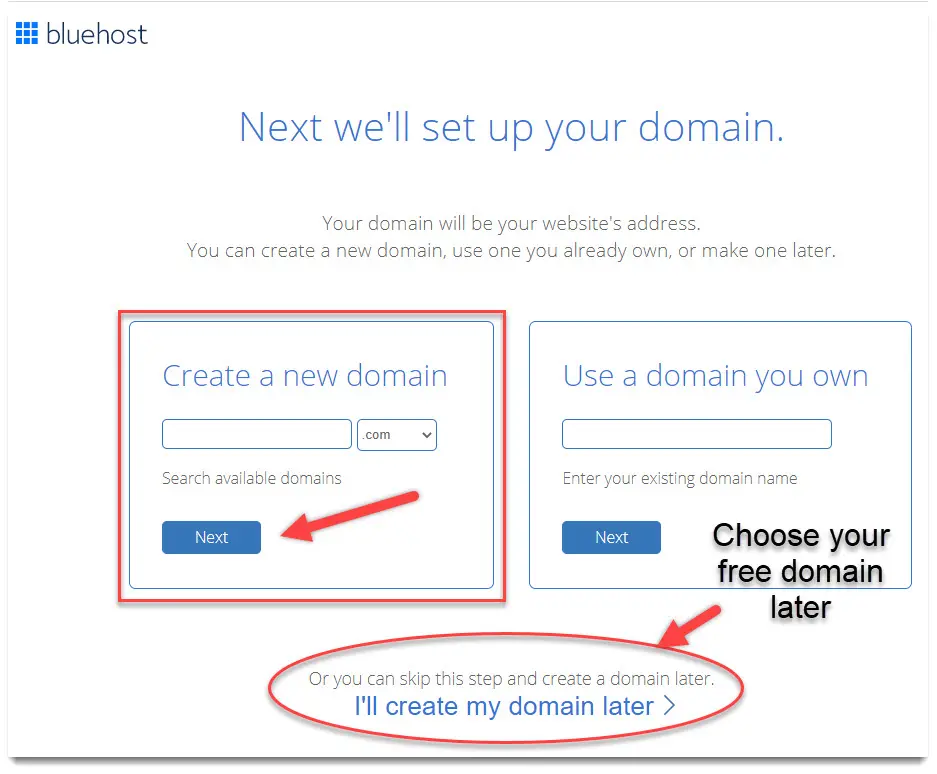 If you've already purchased a domain name from somewhere else, just type it in the "Use a domain you own" box.
✳️ If you haven't thought of a domain name yet it's fine. You can skip this section and claim your FREE domain name later.
4. Register with Bluehost
The next step is to create an account with Bluehost and fill in your personal details. It's really important to use an up-to-date email address – one that you check regularly. Bluehost will use this email address to send you login details and your account information.
Add your contact details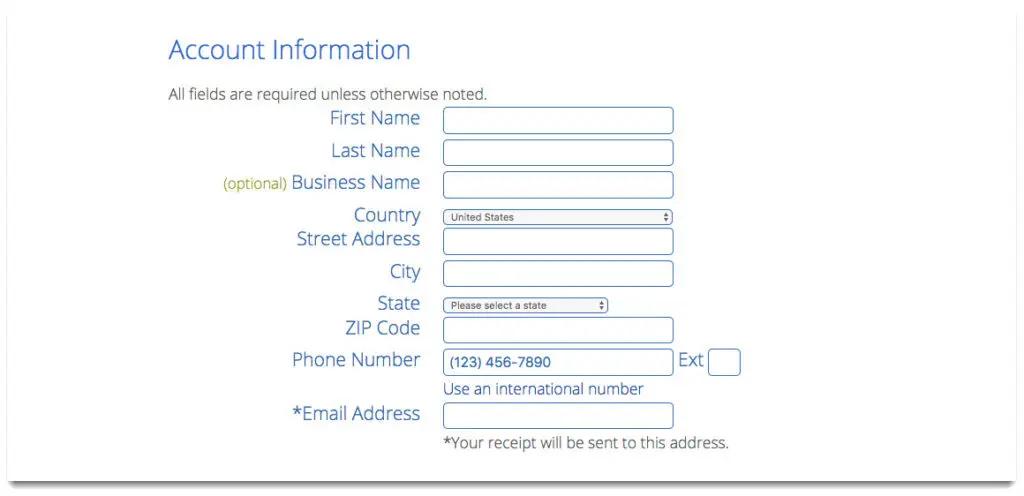 Select your hosting package
Here you need to select your hosting package. There's a choice between a 12-month, 24-month, or 36-month plan. The 36-month plan is the best value and gives you three whole years to work on your blog without paying any extra for hosting costs.
Bluehost doesn't have a monthly plan. Companies that do offer monthly plans charge quite a bit more. With Bluehost, all three plans offer terrific value so select the plan you can afford.

NOTE: Bluehost has a 30-day guarantee. You can cancel your plan at any time within the first 30 days and get a full refund of your hosting costs.
Review the package extras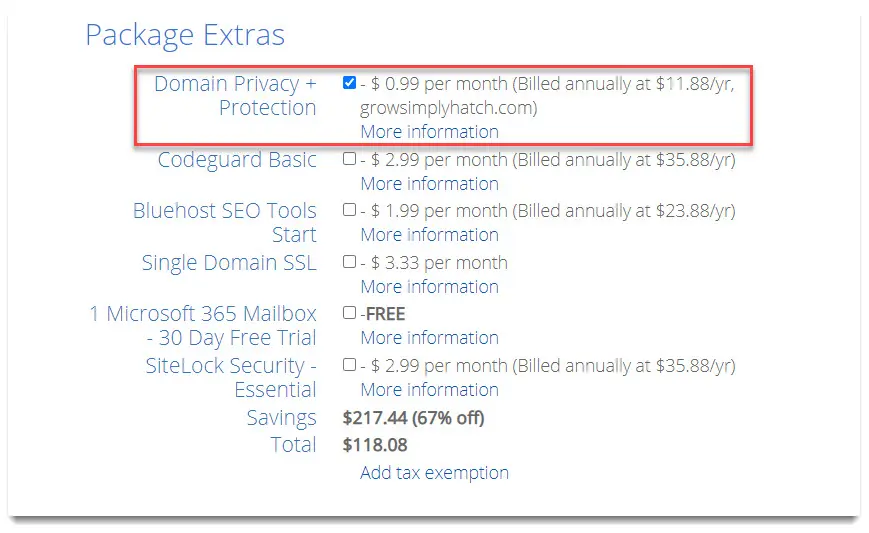 It's a good idea to keep Domain Privacy protection but you can leave the other package extras unchecked. You don't need any of these right now and you can always add them later. You won't see the domain privacy option if you're choosing to pick your domain name later.
Adding domain privacy protection keeps all your personal contact details, (name, address, email, phone number), private and stops them from being added to the public record for your domain.
Payment information
Now enter your payment details and check the box to agree to Bluehost's Terms of Service. The final step is to hit the green "Submit" button.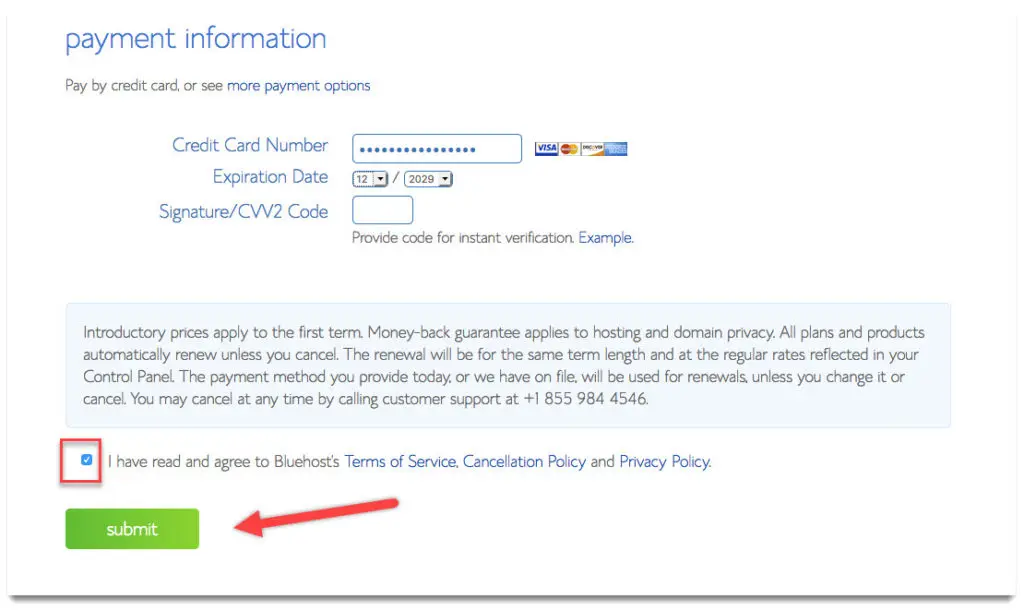 As soon as the payment goes through you'll receive a confirmation email from Bluehost. You also need to check your inbox for a confirmation email to verify your email address and activate your domain name.
❤️ Woohoo! You've just completed the first big step of starting your blog.
The next sections take you step-by-step through the best way to start your blog such as getting WordPress set up on your site and installing your FREE theme. I also have lots of tips for growing your blog and how to start making money from your WordPress blog.
-> Click here to head over to Bluehost and register your domain if you haven't already.
If you haven't set up your hosting yet and want to check out some other web-hosting providers, take a look at these good alternatives. I'm a great believer in choice.
The 2 best alternative web hosting platforms
Although I'm a big believer in Bluehost, it's the easiest way to start a blog and their dashboard is super beginner-friendly, not everyone wants to sign up for an annual hosting plan. These two options all come with monthly payment plans:
Agathon – I've recently switched this blog and my lifestyle blog Love Life Be Fit over to Agathon hosting. Based in Michigan, these amazing hosting providers serve top sites such as airbnb and Mediavine. It's dedicated cloud hosting so you're not sharing resources with anyone. Their next-gen hosting is really fast and secure PLUS they have amazing support. The only downsized is it costs too much for a beginner blogger. I currently pay $80 to host both blogs plus $20 for their custom StackPath CDN. My advice is to start your blog with Bluehost, then as soon as you're getting traffic and making money, upgrade your plan with Bluehost OR migrate your blog for FREE to Agathon.
HostGator – Known for excellent support, HostGator is an industry giant hosting over 2 million domains. Their monthly payment plan is a great help if you're starting your blog on a tight budget and they have a huge choice of plans for when your business blog starts to grow!
5. Create your account with Bluehost
The next step asks you to create your account and set up a password. Pick one that's secure and make sure you can remember it.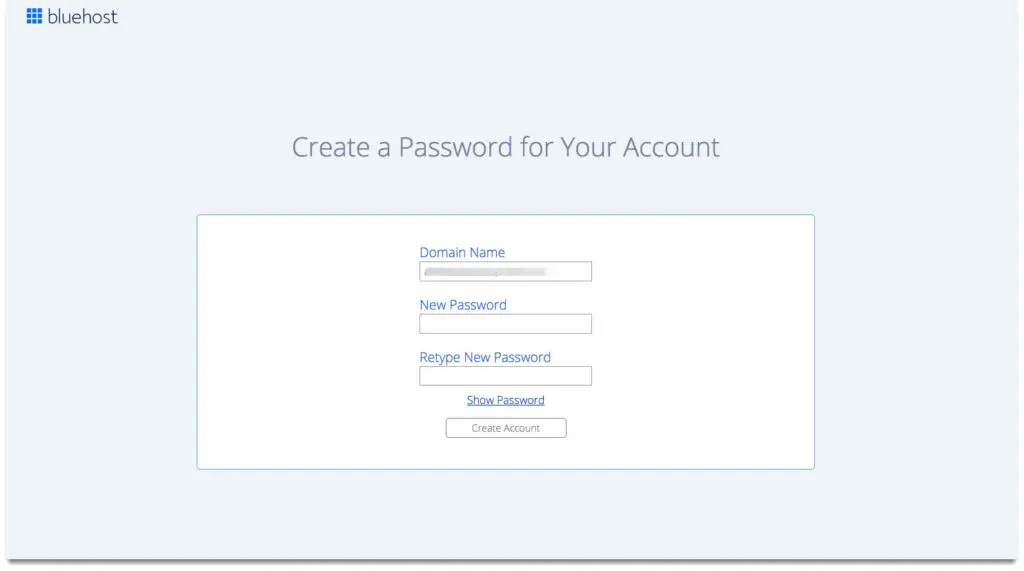 Click the "Create Account" button. On the next screen, you need to click on "Go to login" and you'll be taken to the screen where you log in to your Bluehost panel.
This is where you manage the backend of your site. Use the password you just created and you'll be taken to the installation helper.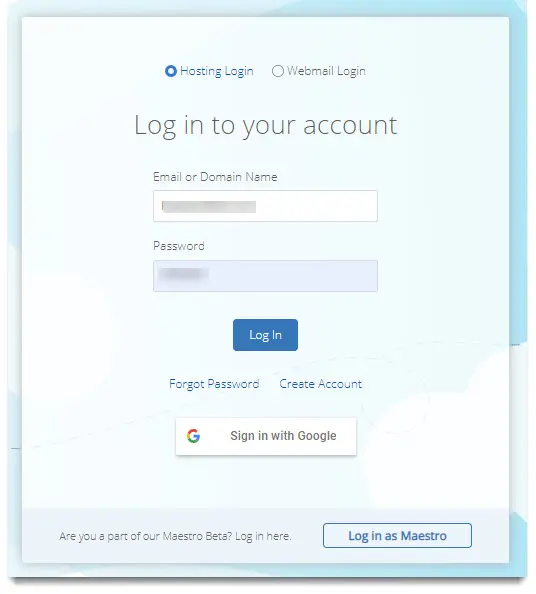 6. Install WordPress automatically
Bluehost will now take you through a series of marketing questions. I suggest you skip them. They give you the option to design your WordPress blog for you but as a beginner blogger, it's better to save your money and put it to better use.
Instead, I'll show you how to set up your WordPress blog for free!
Skip through the screens including "Pick a theme that inspires you". I'll help you install the best free theme in the next section.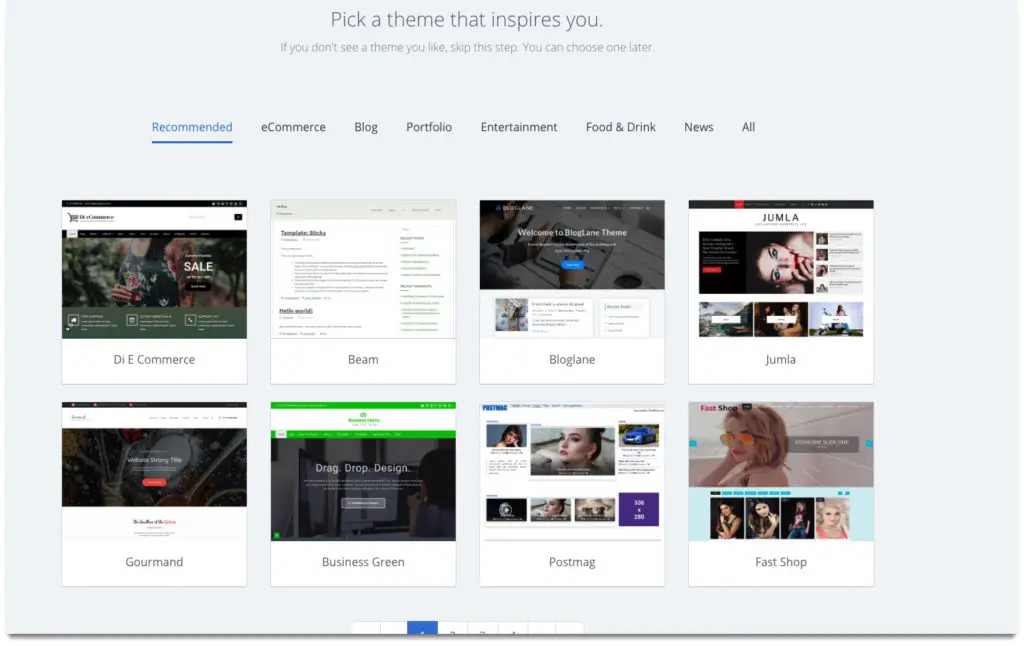 Finally, the Bluehost system will install WordPress automatically and you'll be taken to the Bluehost panel. I love this panel for beginner bloggers. It's full of useful tips and suggestions to improve your blog.

My panel may look a little different, but you want to click the "Log in to WordPress" button.
Log in to WordPress
There are two different ways to log in to WordPress; via your Bluehost account or directly.
Method 1 Log in via your Bluehost account
✅ Go to Bluehost.com and log in using the username and password you used earlier. Click on the blue button to Log in to WordPress.
Method 2 Log in directly to WordPress
Log in directly by going to:
yourdomainnamehere.com/wp-admin/
(Bookmark this login page for future reference).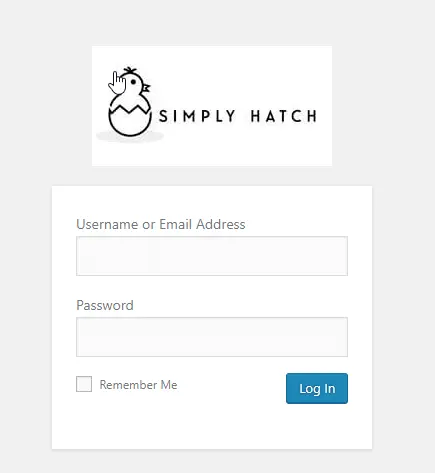 This logs you into your WordPress dashboard. It's where you'll design your blog and write your posts. The rest of this guide is relevant to everyone using WordPress, not just Bluehost users.
This is an in-depth guide and some of you may feel you've already taken in a lot in one go. It may be enough for today just to register your domain and sign up for hosting.
✅ You could bookmark this post and return to it tomorrow, or maybe download my FREE 12-Month Blog Plan which tells you how to start and grow a profitable blog.
Step #6. Install a theme and design your blog
This section takes you through installing a theme on your new blog and gives you some ideas about your blog design. The first step, however, is to learn a little about WordPress.
1. Your essential guide to WordPress
When you log in to WordPress you'll find yourself in the dashboard. At the top of the page, you'll see a little house icon next to your username. Hover over the icon and click on it to visit your new blog.
The way your site looks will depend on which theme you selected. If you didn't select a theme, WordPress will install the default Twenty Twenty-Three theme on your new blog. It will look a bit like this: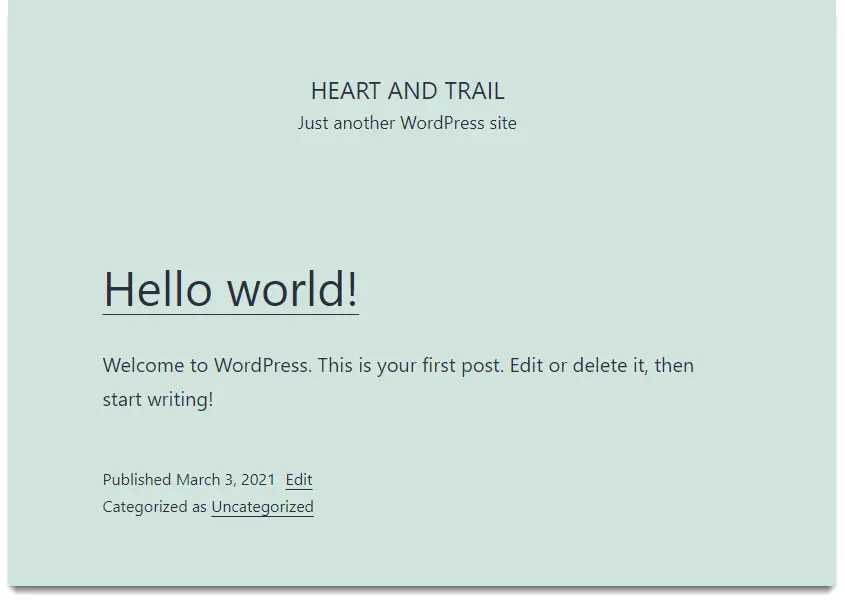 Not what you were expecting?
There's a lot I like about this recent theme created for the WordPress Gutenberg editor but it still has its limitations.
Instead, I'm going to show you how to set up an excellent FREE theme in the next step but there are a few things we need to take care of first.
Make Sure Your SSL Certificate Is Installed
Bluehost provides a FREE SSL certificate and they install it automatically when you build your site.
This provides a secure padlock sign on browsers when customers visit your site. Take a look at your browser and it should look something like this.

When you first install WordPress you may have a temporary domain name for a day or two until your selected domain is fully propagated.
You can still go ahead and start working on your blog, just keep checking until you see the padlock sign and your selected domain name.
Your WordPress Dashboard
Return to your WordPress dashboard by clicking on the name of your site (top left) and selecting dashboard.
There's a lot to take in! Don't worry. You'll soon get used to it.
The dashboard seems super complicated but in reality, it's been laid out really well and you'll soon find it easy to use (honestly)!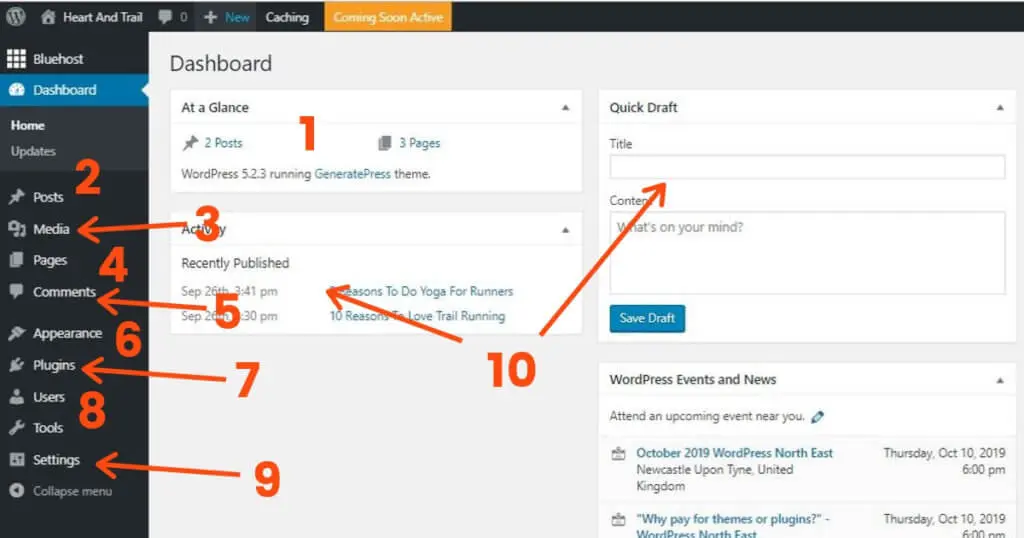 Key to your dashboard
#1 At A Glance
This area tells you what your theme is. You'll also get information on the number of posts and pages plus any updates.
#2 Posts
Here you add and edit your posts. Your posts are your articles and will be the main content of your blog.
Your posts are organized into categories so people can search for the topics they are interested in. Normally it's best to create just two or three categories but you may need more if you're setting up a broad-topic blog.
You can use tags to divide your posts into more specific sub-topics.
#3 Media
This is where you upload images. It also contains your library of images.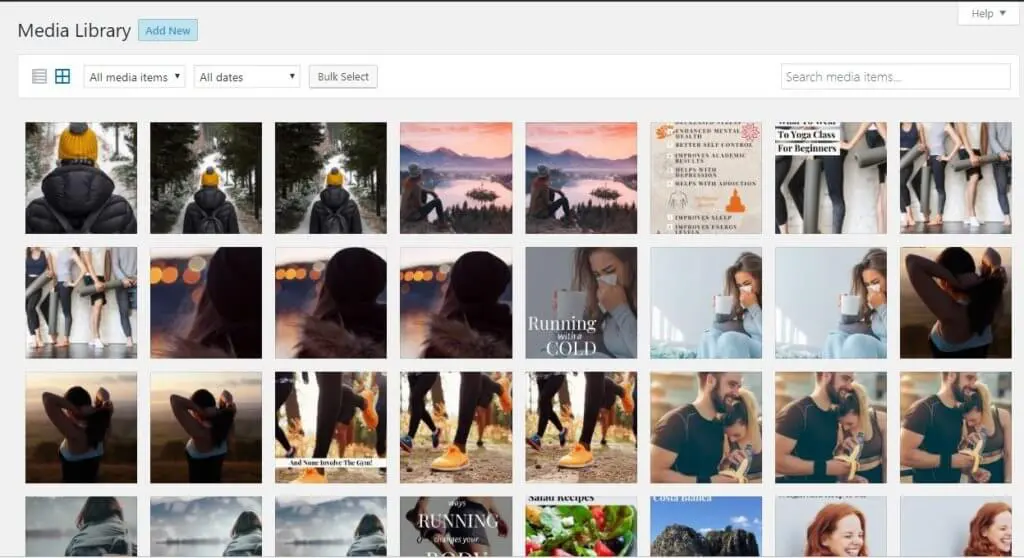 #4 Pages
Here you can add and edit pages. Pages are used for your "static content". This is the content you don't update or change frequently.
Examples are:
About Page (who you are and what your blog is about).
Privacy Page (this is a legal requirement). You will also need a Disclaimer Page as soon as you start selling.
Contact Page (this is a good idea if you want your readers to be able to contact you).
#5 Comments
The area where you moderate comments left by your followers.
#6 Appearance
This is the part that changes everything about how your blog looks from applying a new theme to creating menus and adding widgets. Widgets are drag-and-drop content areas such as the right sidebar and footers.
#7 Plugins
This is where you install new plugins. Plugins are software add-ons that enhance your WordPress blog by adding extra features.



#8 Users
Here you can manage users for your site.
#9 Settings
This section needs to be set up correctly from the beginning– the key details for how your site is set up. The steps are explained in the next section.
#10 Your recent activity
Any recent changes you make to your blog will be listed in this area.
2. Your WordPress Settings
General Settings
Go to Settings > General on your dashboard.
The default settings here are generally okay. You might want to remove the tagline. You can change your time zone to match your local zone which is useful if you ever schedule posts.
✳️For most people, your WordPress address and Site address will be the same and will start with HTTPS. If not make sure your SSL certificate is installed.
Remember to Save Changes.
Writing
Go to Settings > Writing. Here you can set your default post categories. At the moment you don't have any categories so you can return to this section later.
Reading
Go to Settings > Reading. Make sure the Search Engine Visibility is On. (The box is unchecked).

✳️IMPORTANT: If you tick this box by mistake you will not get any search engine traffic.
For each article in the feed select Full Text. Save Changes.
Discussion
Go to Settings > Discussion. Decide if you want to allow comments.
The problem with comments is receiving lots of spam and it can be hard to build up an active comments section. But when it works comments are terrific for interaction and engagement.
The plugin Askimet Anti Spam is a terrific way of preventing spam comments and for new bloggers, you can install it for free. My view is anything that helps to build traffic is good and comments are enabled on all my blogs.
I have closed comments on articles older than 30 days which helps to limit the targeting of my site for spam. These are my Simply Hatch settings:

Another tip is to disable pingbacks and trackbacks. Pingbacks and trackbacks allow other blogs to notify you whenever they link to you. It might sound good but these are not very helpful and spammers will happily use them to send heaps of spam your way.

Media
Go to Settings > Media. This is where you can change the default sizes for your images. These will normally be set by your chosen theme.
Permalinks
Go to Settings > Permalinks. These settings you want to change once then never touch again. Changing them later would mean creating redirects for all your posts and pages. These settings determine the style of your permalinks.
Select Post Name and Save Changes
(Bluehost normally sets this for you automatically but it's best to check).
Install Plugins
Go to Plugins > Installed plugins
Here you can choose to deactivate and delete any plugins you don't need. If Jetpack has been installed delete it now.
Your WordPress hosting may have installed a security plugin during setup, for example, SiteLock. It's essential to keep this plugin. Alternatively, Wordfence is a good security option and has a free version.
Your chosen theme may require specific plugins such as a form builder. There are a few options for form builders, all free such as Contact Form 7, Ninja Forms, and WPForms Lite. These are all good options.
Go to Plugins > Add New

Install Askimet Anti-Spam by searching for Askimet, clicking install now, waiting a few seconds then click activate.
This is the best anti-spam plugin. You will have to create a free account to finish the installation. The default settings are fine.

Install Yoast SEO. You only need the free version to get started. It's the only SEO tool you need for your website.
The default settings are fine.

Install a Google Analytics plugin. If you search for Google Analytics a number of different options pop up. I'm currently using analytify. I chose it because it has a solid 5-star rating, it was updated quite recently, and has quite a high number of active installations. It seems good.
If you don't have a Google Analytics account yet sign up for one here. It may not seem important at the moment but at some stage, you will want to look back and see how your blog grew from the beginning. These are the key plugins to get started.
3. Write Your First Blog Post.
Before you dive into designing your blog my top tip is to start writing your first blog post.
Why?
It's really difficult to see how your blog will look until you have some material on your blog.
The most important part of your blog is content.
People get lost perfecting their blogs and waste a heap of time.
The way your blog looks is not as important as you think it is.
You don't need to overthink writing your first post. Keep it simple. Maybe start by just writing about yourself and why you've started this blog.
Your first post is practice at writing. There's every chance you'll go back and edit your first post in a few months' time.
From the left-hand menu select Posts > Add New. (You can delete the one called "Hello World").

You will find an easy-to-use document editor, the new Gutenberg Editor.
Enter An Eye-Catching Title

This title "Running Tips For Beginners" is okay but it's easy to do better:
9 Running Tips For Beginners Who Hate Running
How To Start Running When You Haven't Run Since School
6 Running Tips To Make You Fall In Love With Running
Try and make your title really stand out. You need to grab people's attention.
Tips, how-to posts, and list articles are the most popular type of posts and also the easiest to write. If you're solving a problem, people will want to read your post.
The Gutenberg editor uses blocks to add content. Click on the plus sign to choose a new block: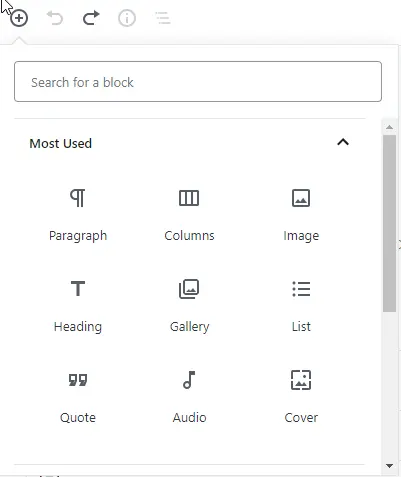 Add some images and text. Your first post doesn't need to be very long. It's better to add a few short posts to your blog in the beginning. You can build up at adding longer posts later.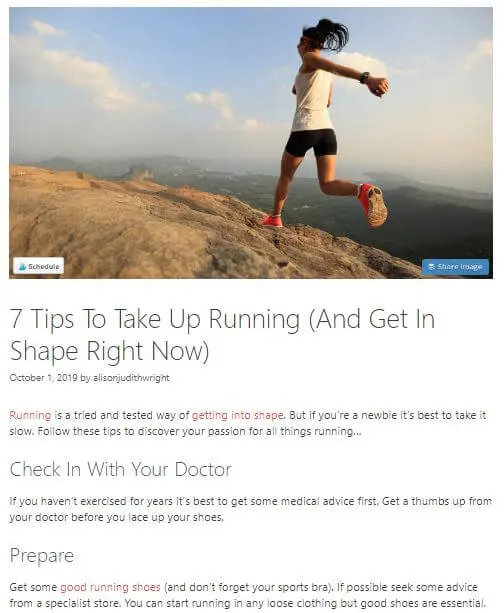 When you've finished hit the publish button. View your post…
Whoop whoop! You've written your first blog post. Try and write 2 or 3 posts before you're distracted by the deep pit of blog design…
4. Your Blog Design And Theme.
There's no one size fits all answer to blog design. Instead, your design will reflect your own vision and creativity.
The best way to find inspiration is to search for blogs in your chosen niche. It helps to have a clear idea of the type of blog you want to create.
If you're not sure at this point, don't worry about it. You can install the free theme I recommend below and just start blogging.
After your first few months, you'll have a better idea of how you want to shape your blog. That's the best time to start focusing on your blog design.
Start A Blog – The Different Types Of Blogs
You can split blogs into four main types:
The influencer blog
The magazine-style blog
A mix of influencer/magazine style
The business blog.
The Influencer Blog
This is for people who aspire to own their niche. It's a blog where the author is center stage and their experience is central to the advice provided on the blog.
Backlinko falls into this category.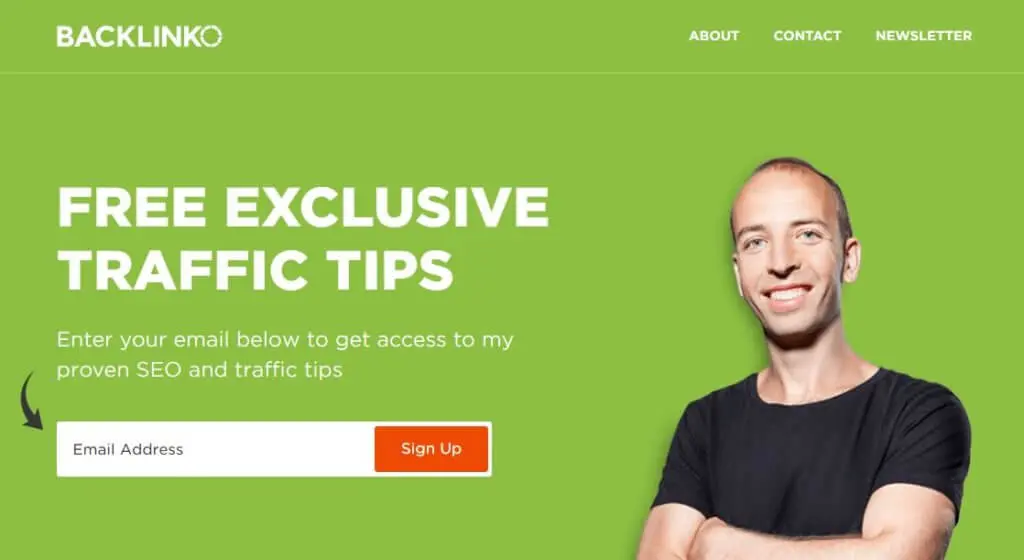 Brian Dean is an authority in his niche of SEO. His picture is the first thing you see and testimonials confirm his influence.
It's a very clever blog with his homepage designed around getting you to sign up for his email list.
This blog style is difficult to pull off if you're a new blogger. Simply Hatch has a similar style and a lot of work goes on behind the scenes to get the website to perform.
I suggest you choose one of the other styles for your first blog. Setting up my lifestyle blog Love Life Be Fit over the summer was a walk in the park compared with the work that goes into Simply Hatch.
The Magazine Style Blog
Tiny Bhuddha is a wonderful example of a magazine-style blog. You have to go digging to discover who owns the blog. Instead, there's an assault of wonderful and varied posts to read by several different authors.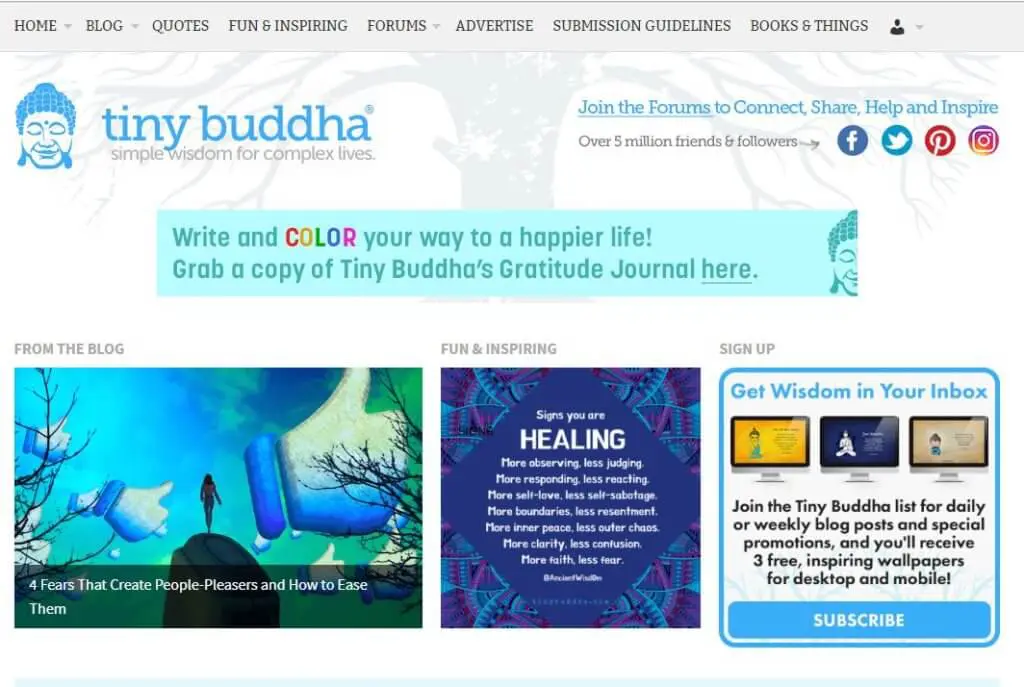 It's a great choice of style if you want to create lots of content without writing about yourself. There's no image of the owner Lori Deschene anywhere on the blog, (at least I couldn't find one!), adding appeal for the camera shy.
The blog is filled with easy to write how-to articles, tips, and list posts. There are several authors but you could create something similar in your own niche by churning out lots of short articles.
A magazine-style blog only works if you produce a high volume of material. Opting for a mixed influencer/magazine-style blog will work best for most new bloggers.
Mixed Influencer/Magazine Style Blog
This style is the best option for new bloggers. It's the easiest way to make a lasting impression with your readers. You're adding your personal touch to helpful and informative posts.
A picture on your homepage isn't essential, but instead of the professional photograph required for an influencer blog, a small snapshot will work just as well.
A Cup Of Jo is an excellent example of this type of blog: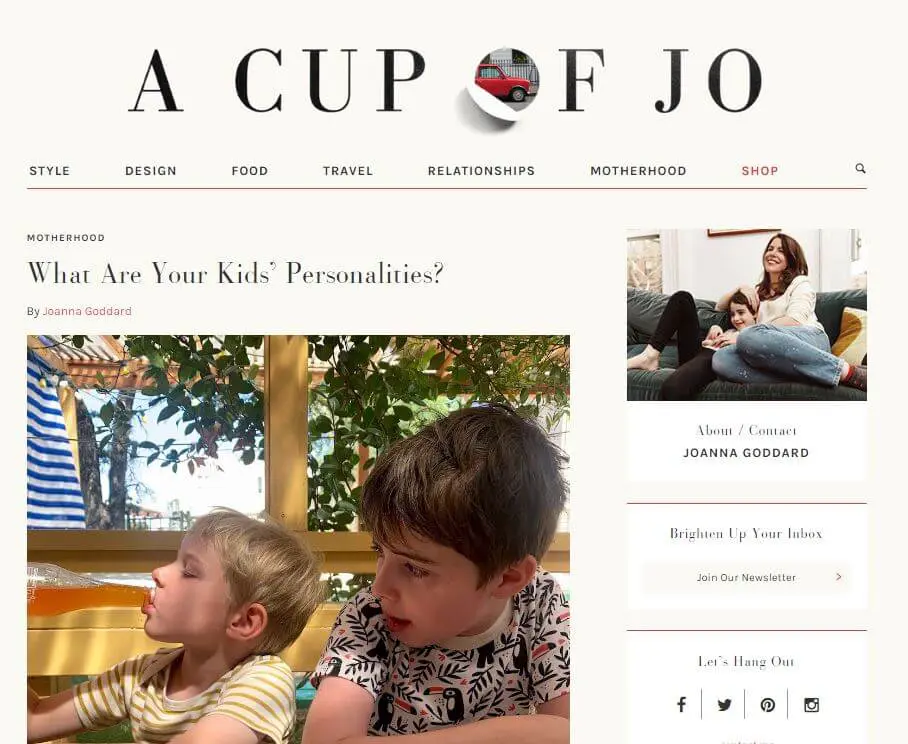 The first thing you'll notice about A Cup Of Jo is the blog has a very simple layout. The latest posts are on the homepage. The top menu links to different categories.
Don't be deceived by its simplicity. The owner Joanna Goddard has grown the blog to over one million monthly unique visits and five million monthly pageviews! What started as a weekend hobby now employs a team of writers.
I will show you how to create a similar blog in the next section.
The Business Blog
If you have an existing business, starting a blog is the best way to grow traffic. I used blogging to grow my last business to a 7 figure turnover.
Blogging is a terrific source of organic FREE traffic.
It's important when you start a business blog to have a good idea of the different types of customers you're trying to attract.
Sketch out their avatars, give them names, and personalities, and list their interests, their needs, and their wants. Then go and write articles aimed at the characters you've created.
Howies has always been excellent at writing interesting posts aimed at the customers they want to attract. People who enjoy the outdoors, and are open to buying their ethically sourced products.
A business blog is a good way of building your startup story. Add in reasons to buy your products without going down the hard sell route.
Less is more when it comes to designing a blog
Most people read blogs on their phones and it's completely changed the design of blogs. Everything is now about speed and simplicity.
When I gained access to the exclusive Mediavine Facebook Group for bloggers accepted onto their premium advert program, I was amazed to find that the free theme I recommend was the most talked-about theme amongst pro bloggers.
Why? Because it's an incredibly lightweight theme loved by Google search engines. These pro bloggers know that if you want your blog to load quickly you need a theme that gets top scores on Google's PageSpeed Insights tool.
5. Start A Blog With A FREE Theme
In your dashboard, from the left-hand side menu select Appearance > Themes. From here you can select > Add New Theme and search through the hundreds of free themes to find one you want to install.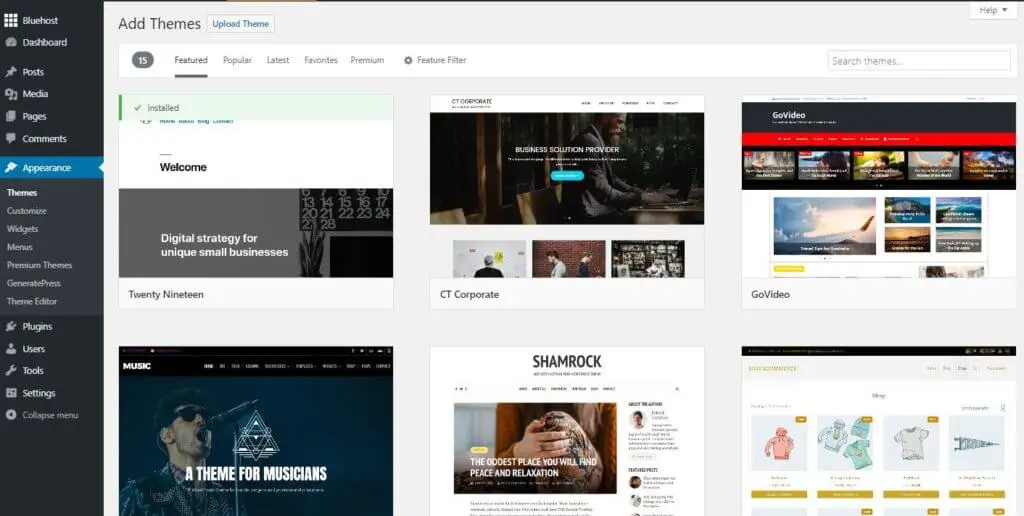 There's a tremendous choice and it's a good way to waste a few hours!
✳️ I used to think FREE themes had their limitations but then I discovered GeneratePress. It really rocks. It's a simple lightweight theme that's so easy to use. Perfect for beginners.
The best bit is the free version will get you set up and blogging on your site in minutes, it's that user-friendly.
If you do crack and start looking at paid themes, (and I'm sure you will), the Premium version of GeneratePress is a steal at just $59 per year. (You can pay far more for premium themes). It's the theme I use on this blog Simply Hatch.
You gain full access to their library of demo sites such as this one: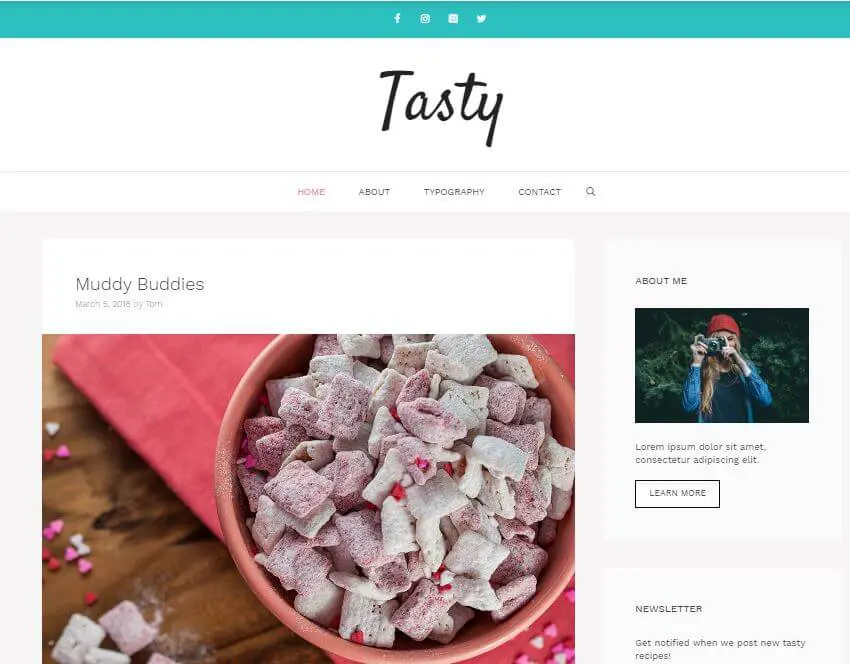 Or this one: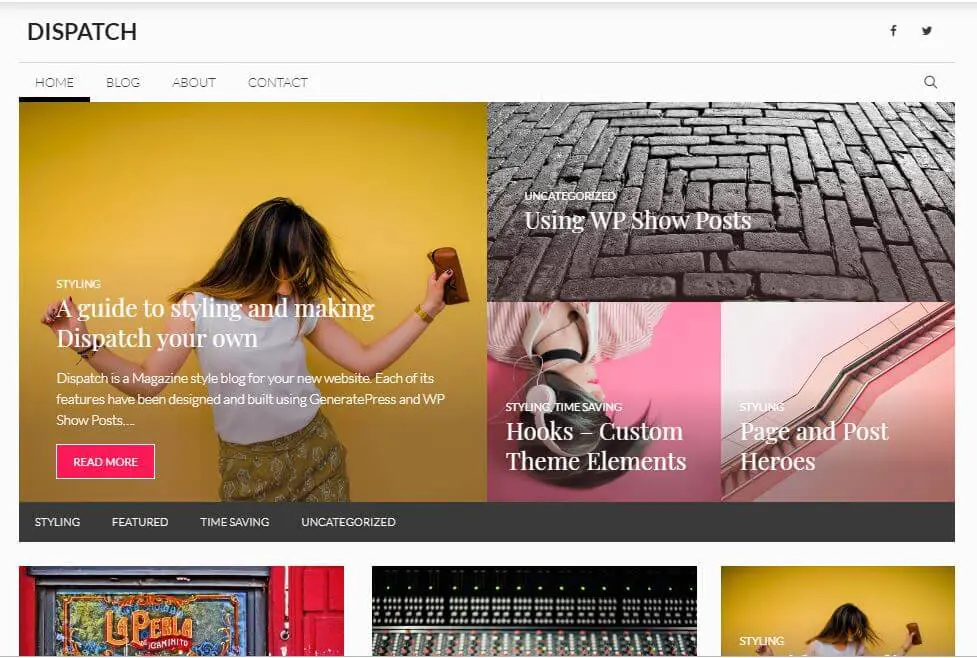 Just upload the demo and you're good to go.
✅ The brilliance of GeneratePress is you can start with the FREE version and just add in the Premium modules when you need them.
There's no need to start afresh with a whole new theme. No need for complicated staging environments because you're just enhancing your existing theme.
Best of all you can really unleash your inner designer, without learning how to code, by combining GeneratePress with the page builder Elementor.
This is an example of a demo site created using Elementor + GeneratePress: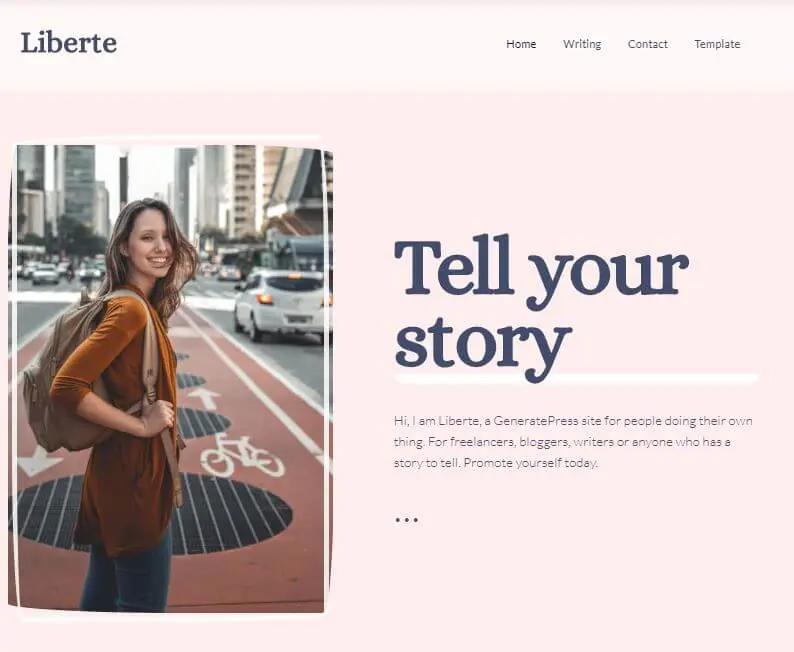 ✳️ Elementor is the only page builder I recommend. Personally, I think you're better off just using the Gutenberg editor but if you do want to use a page builder, Elementor can be a great tool when you first start using WordPress. As a beginner blogger, all you need is the FREE version. Just make sure you ONLY use it for pages and not for posts.
6. How To Set Up Your FREE Theme
Once you've installed and activated your GeneratePress, go to Appearance > Customize. This is where you can edit the look of your blog.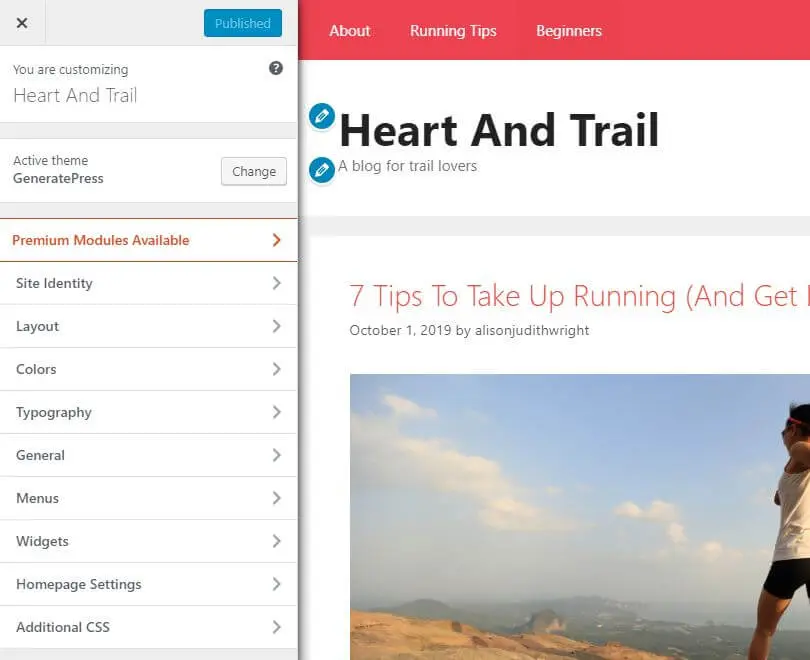 You can change the Site Title, Tagline, upload a logo and a site icon (favicon) by selecting Site Identity.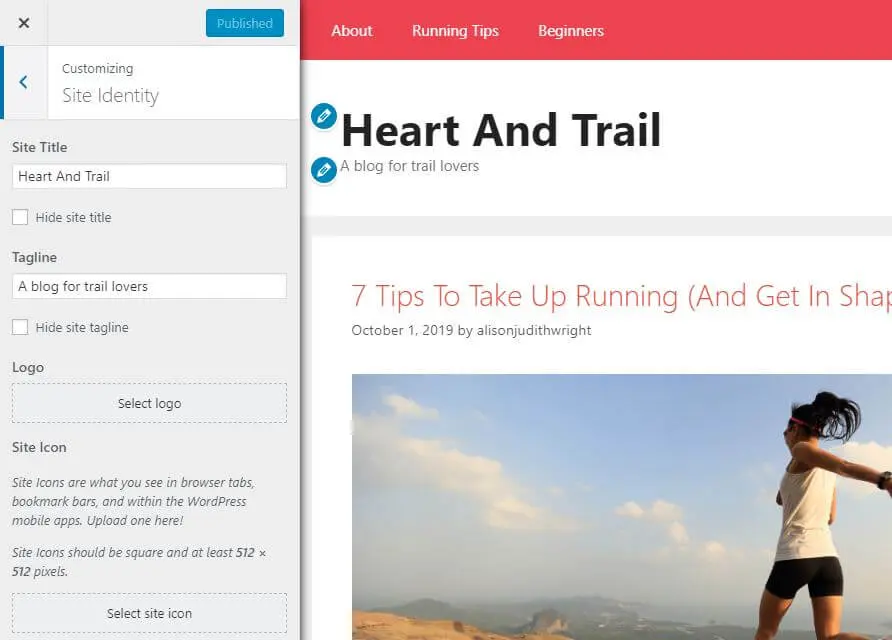 In the layout section, you can change your header and navigation location. You can also decide if you want your posts to fill the full width of the page or if you want a sidebar. Play around with the settings. The changes will only go live if you hit the Publish button.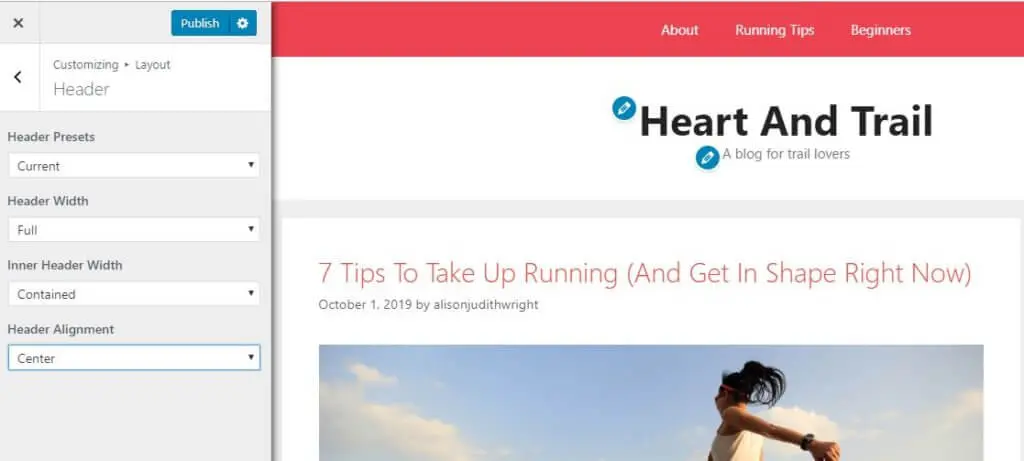 You can change text colors and fonts, the color of the navigation bar and there are lots of spaces for adding widgets. (This will become important as you grow your blog).
You can make all these design changes with the FREE theme. How good is that!
✅ There's also an excellent how-to guide on the GeneratePress website. It's really easy to follow, and GeneratePress has a good support section on their site.
Want to learn more about blog design? Try these posts:
#7. Start Making Money.
Making money from a blog relies on two factors: traffic and a means of making money. In your first few months of blogging, creating content, promoting your blog, and finding traffic should be your main focus.
There's no point blogging away if no one's reading your posts and you should be putting as much effort into promotion as you put into writing. This section will help get you on the right path.
1. Creating Content
I've seen so many new bloggers get wrapped up in learning everything there is to know about blogging that they forget the basics.
Blogging is about creating content. If you don't have the right content, you will never grow your blog and make money.
My lifestyle blog no longer has an email list. I may restart one in the future but right now it's not a priority. It doesn't have sales funnels or lead magnets. What it does have is a lot of content. Focusing on creating content has been the main tool to grow my blog to 100K+ visitors a month:
2. Grow Your Blog With Social Media
There are two routes to growing a blog, social media and SEO, (Search Engine Optimization – getting your blog to rank highly for organic traffic on Google). My view is you need both.
SEO attracts high-converting traffic for affiliate marketing and I love it because it doesn't require constant attention. All my blogs get around 75% of their traffic from Google and it's all free organic traffic.
Yet you can't expect organic traffic from Google from the first day you launch your blog. It can take 6 to 12 months before Google will start to send you regular traffic.
It's nothing personal – Google just hates new blogs. Instead, your first traffic will come from your hard-earned promotion on social media.
3. Grow Your Blog With SEO
The good intentions of building your blog may come and go as life intervenes. One month you might have lots of spare time for blogging and at other times just getting through the week is all you can manage.
Family commitments kick in or you have deadlines on your day job…it can be really easy at times to be distracted from your side hustle of growing a blog.
That's what's so great about SEO. I've gone months without working on my lifestyle blog and have still seen my traffic and income grow.
The biggest tip I can give you for making money from blogging is to learn some SEO. This post will help:
4. Make Money Blogging
There are hundreds of different ways you can make money from a blog and each will be unique to your own skillset. Some of them will need lots of traffic and some make money from a relatively small number of visitors.
These are the main passive income streams:
advertising,
affiliate marketing,
sponsored posts,
creating printables,
ebooks or online courses.
You can also use your blog to promote and sell services such as becoming a virtual assistant (VA) or getting paid to blog as a freelance writer. Find out more about making money from blogging in these posts:
The Next Steps…
Starting a blog is one thing. Making money from your blog is something else. Find out more with my FREE 12-Month Blog Plan…
Frequently Asked Questions
---
How to Start A Blog in 2023?
Follow these 7 Easy Steps:
Step 1: Find your niche and blog topic. Your topic needs an audience and your blog needs to help people.
Step 2: Choose a blogging platform. Your blogging platform, WordPress.org will organize and edit your content.
Step 3: Pick a domain name. This is your blog's unique address on the internet.
Step 4: Sign up for hosting. Your blog needs a home. Somewhere to store and serve up your content.
Step 5: Start your blog on WordPress. Discover the easiest way to start a blog.
Step 6: Install a theme and design your blog – learn how to set up WordPress correctly, write your first blog post and design your site with a free theme.
Step 7: Start making money. Create content, grow your blog on social media, and learn search engine optimization.


How do you start a blog for free?
If you want to start a blog for free, Blogger is a good choice. It's doubtful you'll make any money using Blogger but it's a good way to practice your writing skills. If you want to start a money-making blog, you really need to invest in a self-hosted wordpress.org site.
How do bloggers get paid?
Advertising is the best-known way to make money from blogging. It's easy to place ads on your site and it's a totally passive source of income. There is a catch. You need a ton of traffic to make money from advertising so it only works if you're writing about popular topics. Fortunately, it's not the only way to make money. The possibilities can be endless with blogging from affiliate marketing to selling courses or using a blog to promote an online business.