Starting a blog doesn't have to be difficult. Granted there's a lot to learn but the best way to learn with blogging is by doing. Follow these easy steps to start your blog today on WP Engine!
Not sure which hosting is best for you? Read my guide to the Best WordPress Hosting for Bloggers.
This post contains affiliate links. This means I receive a commission if you make a purchase through my links, but this is at no additional cost to you. Please read my disclaimer for more information.
Start A Business Blog.
WP Engine is my top choice for a money-generating business blog.
If blogging is going to be your number 1 income source, or you already have a blog attracting substantial traffic, WP Engine is your best option for hosting.
It's extremely fast, very secure and has all the features a growing blog needs. They will even migrate across an existing site for FREE.
I migrated one of my sites to WP Engine last summer. It was a pain-free experience with practically zero downtime. Since migrating my lifestyle blog, traffic has been through the roof!
Get your WP Engine deal! Two months free on an annual plan. Alternatively, you can choose to pay monthly.
Step 2. Register a domain name
A domain name is the URL used to access your site. Mine is www.simplyhatch.com.
I recommend using GoDaddy to find and buy your domain name for the simple reason you can set up your domain on WP Engine automatically.
Pick a .com extension if you live in the US or if you intend to reach readers worldwide. If you only intend to blog for a home audience, get the extension that's relevant to your country. For the UK, that's .co.uk. For the US it's still .com.
You need to come up with a name that's memorable and preferably not too long. Avoid domain names with misspellings, numbers or hyphens. These types of domain names are hard to remember.
If a free domain name is important to you, I recommend you sign up with Bluehost.
Step 3 Choose your web hosting
If you think of the domain name as your address, the hosting is the house that you rent to live in. It's the home for your website. Your website will be stored on servers at a physical location and accessed by the internet.
I use WP Engine to host simplyhatch.com. It's not the cheapest but it ticks all three boxes on my checklist: speed, reliability, and security. Slow websites deter customers big time and will also affect your standing with Google. You really want your website to be listed in Google search results and for this speed is one of the key indicators.
Step 4 Sign up for WP Engine
This is straightforward but there's a couple of things you could be unsure about so I'll give you a run through.
Click here to get 2 months FREE and choose the startup plan.
Hit the get started button and you will see this form:
The annual payment gives you 2 months free. I suggest you take the annual plan. If you're serious about blogging, (and I'm sure you are), you need to stick at it for 12 months to start getting big results. The other options you can leave unchecked unless you feel they're right for your business. GeoTarget is a good feature but it's unlikely you need it from the word go. Global Edge Security is worth considering, especially if you're setting up an eCommerce store
Scroll down and add your contact details.
The Data center is important. Make sure you select the data center closest to where your customers live. For example, if you're targeting the UK change the drop-down selection to the United Kingdom.
Note that the Account name will be the name of your first site. Add your domain name here.
The rest of the form is your billing details. Fill it in, tick to agree to the Terms of Service and hit the big button Create my site.
Exciting!
Step 5 Install WordPress (Go And Make A Coffee)
I couldn't decide what to call this step. You don't have to do anything. Unlike most other hosts, WP Engine will set up your website and install WordPress for you. All you'll have to do is reset your WordPress password.
Once you've made your coffee, you'll find a couple of emails waiting for you in your inbox.
There will a super enthusiastic welcome email telling you WP Engine are building your blog.
Plus an invite to the WP Engine Portal. Accept the invitation, go in and have a look around. This is where your hosting is managed. You can check performance, take on-demand backups, manage your domain and access the StudioPress themes.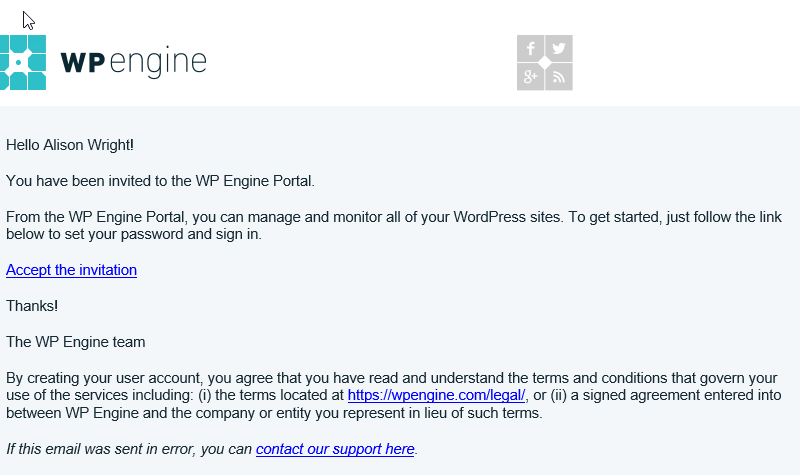 The Sites tab will list your site as soon as it's ready. Meanwhile, click on the Themes tab. If you click on the thumbnails you access the demo sites for each theme.
As soon as your website is ready… tada! This email arrives in your inbox. Your WP Engine website has been set up and WordPress installed. You just need to log in and reset your password.
Step 6 Log in to your new blog
You'll be logging into the backend of your blog. This is where you design your blog and write your posts.
At the top of the page, you'll see a little house icon next to your username. Hover over the icon and click on visit your new website.
Not what you were expecting? WordPress installs a default, free theme when your new site is set up. You will also notice that your website address is http://www.mydomainname.wpengine.com.
Don't panic! Correcting this is the next step.
Step 6 Connect Your Domain Name To Your Site.
This is easy if you purchased your domain name from GoDaddy. If you used any other company hop onto the live chat and the amazing WP Engine support staff will help you out. WP Engine also has a step by step guide you can follow.
Just remember that WP Engine has terrific support. If you get stuck at any time reach out to them.
Before you start make sure you have your login details for GoDaddy to hand.
Go to your WP Engine dashboard at https://my.wpengine.com
Go to Sites and click on your website name and go into Domains. Click the Blue Button to Add domain.
You will get the message "Your domain is hosted at: GoDaddy. Tap next to login to your GoDaddy Account and begin the automated Domain Connect update process. Tap Next.
You will be redirected to a screen asking you to login to GoDaddy. Login to GoDaddy
After signing in you will be asked to confirm your connection. Confirm by clicking Connect.
Once confirmed you will be redirected back to the WP Engine User Portal.
Success!
If you do get a failure message don't panic. You can either delete the domain WP Engine has tried to add and start again or hop on Live Chat for some help.
Sometimes your website will start showing your new domain straightaway and sometimes it takes up to 24 hours.
Step 7 Get your FREE SSL certificate.
This is so important. You need your SSL certificate installed to get the secure padlock sign on browsers when customers visit your site.
Login to your WP Engine User Portal. Go to the Sites tab, select your domain and choose SSL from the left-hand menu.
Click the blue button Add Certificates.
Click Get Free Certificates and select your domain.
Tick the Terms & Conditions box and select Request SSL Certificate.
Your Free SSL certificate will take about 15 minutes to process. WP Engine will email you when it's ready.
Pop back onto your SSL tab and you'll see the Let's Encrypt Certificate. Click on the drop down and select your options to match mine below.
Above the SSL certificate box are the general SSL settings. Tick the boxes to match mine.
Step 8 Update The WordPress and Site Address
Login to your WordPress site and select Settings from the left-hand menu and General from the submenu. Update your WordPress and Site Address.
Step 9 Install your StudioPress Theme
Login to your WP Engine User Portal and select the Themes tab. Choose from the list of 36 beautifully designed themes. Follow the get started guide to install your theme and start a business blog.
My BIG tip. As a new blogger, pick a theme that matches exactly how you want your blog to look. Don't start trying to customize your theme – it will end in tears.
The StudioPress themes based on the Genesis framework are brilliant. Super fast to load, which is what you want for your customers. Just don't try and run before you can walk – you can learn how to customize your theme later (or pay someone to do it).
Have fun!
Conclusion
These posts will help you along your blogging journey…