Last month I wrote my first blog income report for my lifestyle blog and it's been really popular. Am I surprised? Not really. I know when I first started blogging I was crazy about these sorts of details.
To know the nitty-gritty of how people made money from blogging.
Were the big numbers banded around on social media true? Did you need to be exceptionally lucky to make an income from blogging? A socialite or lifestyle guru with a massive Instagram following?
Fortunately for me, just about anyone can make money from blogging. It doesn't take luck and you don't need to be an on-trend influencer.
Granted you're not likely to make a huge income in your first few months – that would be exceptional. Some of these big earners started blogging when it was a little easier – less competition and huge potential to grow traffic on Pinterest.
Instead, I think my lifestyle blog is a realistic example of what to expect if you start a blog today. (Read more about why and how I started my lifestyle blog in my first blog income report).
There is a proviso… you need to go about blogging the right way.
That's the key. You can't just write about anything and expect to get results. It's a business. You need to stay on topic, learn SEO, and blog with a purpose. Not sure how to go about it? My tips for how to grow a blog will help!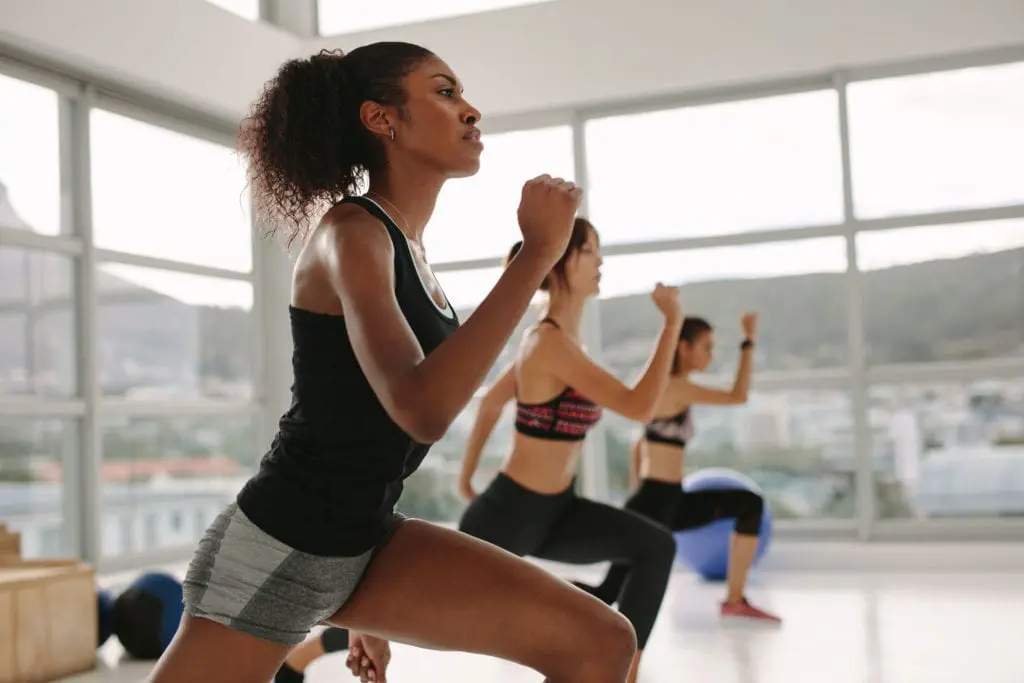 How I Earned $1432.16 With My Lifestyle Blog
I started my lifestyle blog in June 2019 and you can read all about how I grew traffic in my first blog income report. This month my traffic has continued to grow and my sessions are up almost 18% on last month. Not at all bad for August when most blogs expect a traffic dip.
This month I managed over 70,000 sessions and 80,000 pageviews. It's a lot but it matches my chosen blogging niche – a high-volume blog making money from adverts and Amazon associates.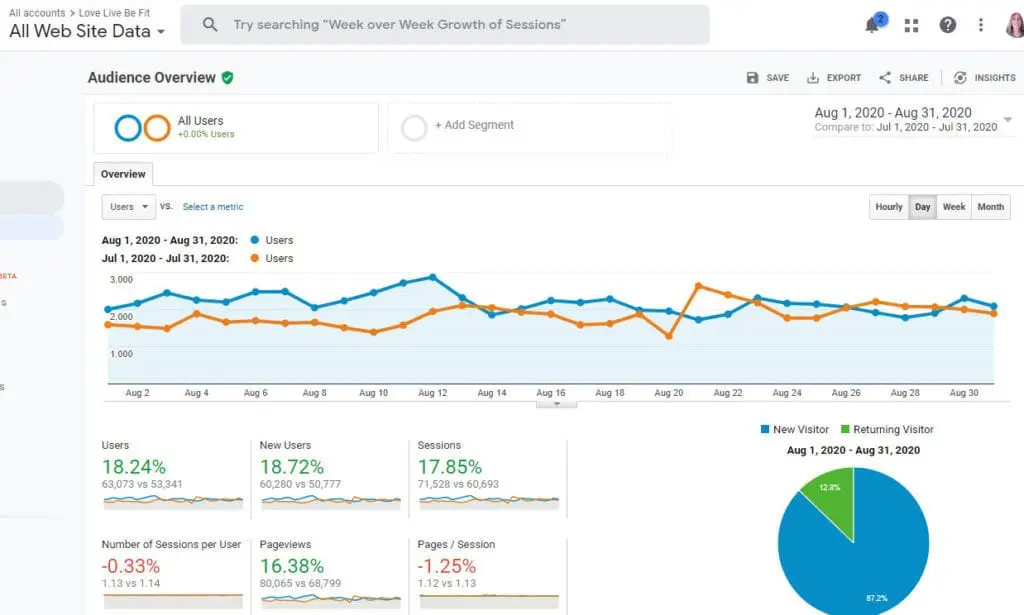 For August my focus was on boosting my affiliate income. Seeing my traffic continue to grow strongly is a pleasant surprise and a continued reminder of the strength of evergreen posts.
What are evergreen posts? Posts you write that continue to stay fresh and relevant, bringing in traffic month after month, year after year.
These are the types of posts steadily growing my organic traffic from Google. Posts that might need a little refreshing from time to time but consistently bring in Ad revenue. Evergreen posts can last high in the Google rankings for years.
Blog Income Report For August 2020
The majority of my income for my lifestyle blog is from Mediavine. I love these guys! It still seems almost too easy to make money this way.
I'm writing about topics I enjoy, fitness and healthy eating. I write posts aimed at keywords that are easy to rank on Google and the result is a good and growing income.
Affiliate Blog Income
For August my big win has been my affiliate income from Amazon. It's still small but it's a whopping 284% increase from last month.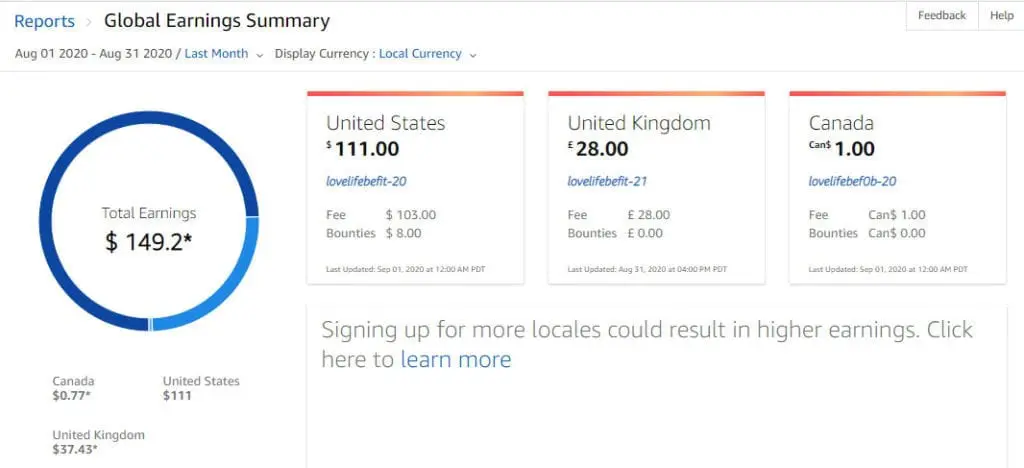 Most of the increase has come from posts I wrote 2 to 3 months ago that are now getting traffic, but some of the extra money has come from tweaking existing posts. The biggest difference has been adding affiliate links near the top of the posts with catchy clickable links.
Advertising Blog Income
In case you haven't read my previous income report, I only started monetizing my blog with adverts in May when I joined Mediavine. Since then my lifestyle blog income has grown steadily.
Last month I made $1082.11 from adverts. This month my increase matches my 18% traffic growth:

That's with traffic of just over 70,000 sessions. Just like last month my traffic and RPM, (Revenue per thousand sessions), just keep increasing.
NOTE: RPM varies based on a number of factors such as blogging topics, audience location… It's not a good idea to compare RPM for different blogs.
Blog Income Breakdown For August 2020
Gross Income: $1432.16
Mediavine Advertising Income: $1283.01
Affiliate Income: $149.20
Yoga Download: $0
Amazon: $149.20
Total Expenses: $130
Hosting WP Engine $85
Get Response $15
Stock Images $30
Net Profit: $1302.16
Hosting Costs For My Lifestyle Blog
For my first year of blogging, I hosted my lifestyle blog, Love Life Be Fit with SiteGround. With SiteGround I grew my blog to 50,000 monthly sessions. It was okay but not a brilliant experience. I had to upgrade twice in just one year because I hit their traffic limits and that did get expensive.
This is one of the reasons I recommend Bluehost for brand-new bloggers. It's so affordable and easy to set up. Everything is targeted at helping beginner bloggers get started. I'm hosting my new niche blog on Bluehost.
The problem is as your blog gets bigger you need better FASTER hosting. I migrated my blog to WP Engine and I'm loving the improved speed. (Update Feb 2022: I've now moved my blog to Agathon – it's even faster and more affordable).
I'm starting to put more effort into growing affiliate income with my lifestyle blog and I'm finally making a little money! Hopefully, this will increase for August.
The aim is to go through all my existing posts and add appropriate affiliate links. I'm making more effort to highlight links and make sure there's an enticing promotion near the top of my popular posts.
Plans For September
September is often a new start for many people. I think it's a hangover from our school days. Or possible because people returning from summer holidays are keen to reinvent themselves?
With a health and fitness lifestyle blog, I'm hoping to tap into these aims and see my traffic continue to grow strongly.
It's also the start of the gift-buying season and advertisers have big budgets in the lead-up to the holiday season. Q4 should see the best income for the year but I'm already laying down the groundwork.
Last month I started writing gift guides aimed at runners and I have a few more to write over the next week or two. I've left it a little late to get these guides ranking but hopefully, I'll still make some affiliate income. If not, they will be ready with little updating for next year!
As it's September, I'm feeling optimistic. I'd like to see my traffic and ad income continue to grow and I'm aiming for $1800. I'd set it higher but I'm in the middle of house moves at the moment and a little distracted!
My email list for my lifestyle blog is still on the back burner and to be realistic I can't see that changing. Still, it's good to know there are other ways I can diversify my blog income in the future.
✳️ Interested in starting your own blog? Follow my start a blog guide and remember I'm here to help!?