Before choosing your WordPress theme, let's stop a minute and think about good blog design. This blogging 101 guide, blog design tips for beginners will help you get your design right from the word go.
Newbie bloggers waste a tonne of time making changes to the look of their theme. Why? Because they choose the wrong theme in the first place. Unless you want to end up in a mess making changes with no coding experience, read these tips on the elements of good blog design…
This post contains affiliate links. This means I receive a commission if you make a purchase through my links, but this is no additional cost to you. Please read my disclaimer for more information.
The Key Elements Of Good Blog Design.
#1 Your Blog Needs To Be Fast
Okay this isn't just a blog design tip. But it's so important. Choosing the right hosting is going to be the No. 1 factor when it comes to having a fast blog.
✅ You can read my guide How To Choose the Best WordPress Hosting or just take my word for it that Bluehost is best for beginner bloggers and get your 63% discount by clicking on the link.
Why is fast hosting important? Because no-one wants to wait around for a slow website to load. Take more than 5 seconds to load and your viewers will be clicking that back button. Plus it's not just viewers who hate slow websites, Google hates them too and will penalise your site ranking.
Yet you can't pin everything on your hosting company. Your blog theme will be the next culprit behind a slow loading website. Poorly designed, bloated themes will slow your blog down.
#2 Pick A Responsive Theme
What does responsive mean? It means your blog will display on any device. The theme will adjust it's layout based on the screen size and resolution. Why is this so important? People are addicted to their mobiles and mobile use has rapidly overtaken any other form of device used to access the internet.
It's hard to imagine these days there are any themes, even free ones, which are not fully responsive. Check just to be sure… take a look at the mobile version of the theme and make sure it's quick to load and easy to navigate.
#3 Easy Navigation Is Essential
Easy navigation isn't about adding lots of menus to your site. You'll notice this blog just has two, one at the top, the header menu, and one at the bottom, the footer menu.
I could add more, maybe one for social media links, but I like the simplicity. Navigation needs to be clear and easy to follow.
Good blog designers will think about how customers flow through the site. Rather than leaving this flow to the whim of the visitor, the navigation guides the visitor to the important pages.
I always start with a piece of paper and sketch out how I want my blog to look. It helps to look at other sites in your niche to understand what you like and what you want to avoid.
Just keep it simple, (and avoid drop down menus – they always cause problems).
#4 Your Colour Scheme
Unless you're a designer with a terrific understand of how colours work, you need to show some restraint when it comes to choosing your blog colours.
Consistency is key. Pick two colours , a Primary and a complementary Secondary colour, and stick to them. Use these two colours with one or two shades of black and white for everything: buttons, links, highlighting text, colour blocks.
Adobe Color CC is a fun tool to use to select your two colours. Just be warned! It's a real time sink! You can also explore popular themes for ideas. (Just click on the EXPLORE tab in the header menu).
Adopting consistent colours,is the quickest way to correct the look of any blog design. If you've ever looked at a blog and thought, "there's something not quite right here", check the colours.
Colour consistency is an easy fix and makes such a difference.
#5 You Need A Blog Focus
Ever been on a blog where you have no idea what it's really about? Yes I know – all the time. That's the problem with so many blogs and the reason many fail to make money.
Like it or not, we're in a time starved World. People are bombarded with information and will make a decision to stay or leave your site in seconds.
To keep visitors on your site, they need to know very quickly what's in it for them. This is where a clear blog focus fits in.
It's a bit like giving a lecture. You start with an introduction. "Tell them what you're going to tell them". This way you won't lose potential customers just because they don't know what your blog is about.
Tell them, and then they might just stick around…
#6 Make Your Fonts Easy To Read
This is one of my biggest blog design tips. Graphic designers consistent forget to check the readability of fonts. At least that's my opinion. Whenever I've used an external designer I've always had a battle about readability.
I'm just trying to follow my own advice: pick a good theme and stick to it. Don't waste a lot of time tinkering. Just make sure that when you choose a theme, the fonts are easy to read.
#7 Choose High Quality Images
There are some bloggers that spend huge amounts of time taking and editing their own photos. These blogs do look wonderful, with backgrounds painstakingly cropped out using photo editing software such as PicMonkey.
Is it worth your time? I doubt it. But using high quality images on your blog is essential in today's digital world. Fortunately there's an alternative.
I get most of my images for FREE from Unsplash. It's a brilliant resource of royalty-free images that you can use for just about any commercial purpose. You can't resell the images (as if you would), but that's about the only restriction.
Free images can mean everybody's using the same ones. Dig around to find something more unique. You can also sign up for an image library such as Shutterstock. I do find I get more shares on social media using paid images. You can even give Shutterstock a try for free.
#8 Don't Crowd Your Home Page
The Dear Designer's Blog is a wonderful example of a good homepage. The navigation is clear, there's a choice of different types of interior design to entice visitors and there's good use of white space.
Why do you need white space? To stop the homepage looking over crowded. In good blog design, less is more. Definitely.
The Dear Designer Blog homepage has lots of interest, with several calls to action (CTA's) such as email signup, a Pinterest board and Instagram follow me.
The Dear Designer Blog uses its blog as the homepage. When you click to the second page of posts, the whole header section reloads. It's better to set a separate page for your homepage with the benefit of having more control over your homepage content.
The big takeaway? Keep your homepage clutter free and simple…
Blog Design Tips – Choosing A Theme
Before you pick your theme, take a look at other themes in your chosen niche and get a good idea of the style and look that you want. Take a note of how other bloggers are capturing signups from their homepage and how they've laid out their navigation.
A word of advice here… Don't run before you can walk. What do I mean? Some of the blogs you're looking at will have been established for years. It's possible they have a custom design by a graphic designer.
You need to be realistic. You want a blog that looks good, is easy to navigate, has clear Calls To Action… but it doesn't have to win the Best of 2019 Blog Design. Your aim is to make money and your blog design just needs to be good enough.
So bear that in mind and take a look at my tips for Free and Paid themes:
Suggested FREE Themes
I've always used paid themes because I find spending a little money works out in the long run. However, there's a huge selection of free themes to choose from in the Themes section of your WordPress site.
From Appearance > Themes >Add New in your WordPress dashboard, you can access the huge library of free themes. You can check the details of each theme by hovering over the theme with your mouse, and clicking "Details & Preview". Once you've found a theme that meets your requirements, click "Install" then "activate".
I suggest looking for a theme with some support, one that's popular and frequently updated.
Here are some other of suggestions:
GeneratePress Free Theme
I'm a huge fan of this theme. It's the theme I use in my Start A Blog Guide video clip. Install your free theme here.
Colormag
Colormag is a free responsive magazine-style WordPress theme. It has a lot of loyal followers and it's updated regularly. It's feature rich and comes with a support forum.
Hestia
Hestia is a modern theme for professionals. It's popular for eCommerce and freelancers. Fully responsive with good page speed and Search Engine Optimised, the theme has excellent scope for Call to Action. Hestia is free but you will be encouraged to upgrade to the paid version for extra features.
Twenty Twenty
Twenty Twenty is the latest WordPress theme launched in November 2019. It's based on the Chaplain theme and fully uses the block features of the Gutenberg editor.
Recommended Paid Themes
All the themes I use on my own websites come from StudioPress.
StudioPress is the master of blazingly fast website design using the framework Genesis. They have excellent support and easy to follow installation guides for all their themes.
Not only are all their themes Gutenberg ready but some themes have also been adapted to get the most out of the new Gutenberg features. These are a selection of the StudioPress themes but you can explore the full range on their website. There's something for everyone!
The Genesis system is set up so that your theme runs as a child theme sitting on top of the Genesis framework. You install the Genesis framework first, then the child theme.
The way your site looks is changed on the child theme, while all the SEO benefits and core Genesis functionality remain untouched. This means that changing the look of your site is a snap — and you don't need a designer or developer to do it.
Essence Pro is deservedly popular for health, wellness, and lifestyle niches. Designed for simplicity, it's fully responsive, super-fast and Search Engine optimised with extensive scope for Call to Action.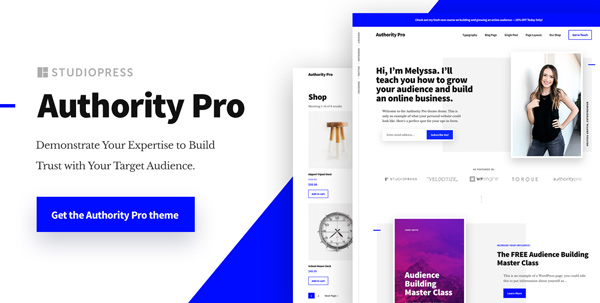 Authority Pro is designed to make your digital business rock from Day 1. Perfect for coaching and online courses, this theme will help build trust and see your following grow.
The theme has been created with a strong focus on Call to Action, getting your customers to sign up for your newsletter, eBooks and courses.
Niche Pro is just made for Pro Bloggers. Love it! I'm even tempted to change my own theme. This is a third party StudioPress theme supported by Designed by Bloom.
Search Engine optimised and ready to pull in customers from Pinterest. Again, as you'd expect, there's good Call to Action sections on the Homepage and throughout the blog.
Mai Lifestyle Pro is the theme I use on my lifestyle blog lovelifebefit.com. It's a third party theme by BizBudding and their support is superb (even when you ask stupid questions).
By working through their step by step videos I was able to set up the site quickly and easily using the free WordPress editor. It's an extremely customisable theme and comes fully recommended! Lots of Call to Action opportunities.
Blog Design – Conclusion
Make sure you have a clear idea of what you expect from your blog design before you pick your theme. It's best to be realistic. Some of those minor niggles around how your theme looks aren't that important at this early stage of your blog.
There's nothing wrong with getting by with a free theme. You can always upgrade later. That's the beauty of WordPress, it's so easy to change the look of your site by changing your theme.
If you can afford it, it's worth investing in a Paid theme. You get better support and documentation for installing your theme. The StudioPress themes are fast, up-to-date and search engines love them!